HOMILY FOR MASS OF EPISCOPAL ORDINATION OF MOST REV. BRIAN MASCORD AND INSTALLATION AS FIFTH BISHOP OF WOLLONGONG - WIN Entertainment Centre, Wollongong, Feast of the Chair of St. Peter
Archbishop Anthony Fisher OP,
22 Feb 2018
HOMILY FOR MASS OF EPISCOPAL ORDINATION OF MOST REV. BRIAN MASCORD
AND INSTALLATION AS FIFTH BISHOP OF WOLLONGONG
WIN Entertainment Centre, Wollongong, Feast of the Chair of St. Peter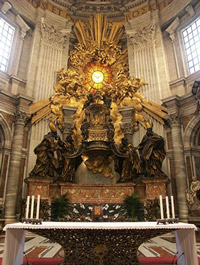 The 'Chair of Saint Peter' was given to Pope John VIII in the year 875 by the Holy Roman Emperor, Charles the Bald. It is the putative seat of the first Bishop of Rome. Though it is the cathedra of St Peter's Basilica, it is rather difficult to sit in, as it was enclosed in a baroque gilded casing by Bernini, raised high above the altar in the apse, and held there by life-sized bronzes of doctors of the Church. Above it light streams through the Holy Spirit window reproduced on the front of our booklets tonight, illuminating the chair and the inscription above it, "O Pastor of the Church, you feed Christ's lambs and sheep."
Before there was any basilica on this site, Peter gave his ultimate testimony to Christ here, being crucified upside-down and buried nearby. So it was around his chair that Peter's life and death was celebrated and from which the Church is governed, taught and sanctified by his successors as Bishop of Rome and Pope.
Plenty there are to govern, teach and sanctify! There are around 7.6 billion people in the world today - enfleshed spirits seeking earthly happiness and heavenly salvation. Of these, nearly a third are Christians - a white-albed host who share in Christ's priesthood by virtue of their Baptism. Of the 1.3B Catholics, 466,000 are deacons - dalmaticked servants of God's people. Of those deacons, 416,000 are ordained priests - enchasubled sanctifiers of those people. And of these 416,000 priests, around 5400 are also bishops. What makes these guys so special?
Well, the first thing we should say is that they are not so different. Every bishop is first a man, a Christian, a cleric. Some might be surprised to learn that bishops are human, born into and raised by ordinary families, with all the gifts and limitations of any human life, the struggles to make sense, live well, be happy, make a difference. As well as being men, bishops are Christians, incorporated into Christ by faith and sacraments, called to live the Gospel in the communion of saints now and forever.
So before Brian Mascord is high priest and shepherd of Wollongong, he is one of you. This is literally the case, since the Mascord line hails from Corrimal in this diocese. And as St. Augustine, who holds Peter's chair aloft in the Vatican, declared in a sermon on the anniversary of his own ordination, "Where I'm terrified by what I am for you, I'm comforted by what I am with you: for you, I am a bishop, but with you I am a Christian. The first is merely an office, the second a grace; the former a danger, the latter salvation. If as a bishop I feel tossed about in the open sea, as a Christian I find myself in safe harbour." (Sermon 340) Now Bishop Brian will have the benefit of many safe harbours of the Illawarra and Shoalhaven!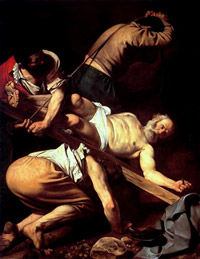 We look to our Bishop-Elect to be a good man and a good Christian before all else, to model for us faith, hope, charity and the other virtues. Happily, on his own account, Brian has been surrounded from childhood by 'tremendous' people such as his grandmother and beloved parents who've shown him how to recognize and respond to God in everyday life, expressing faith practically in service.
So like 7.3B other people today, Brian is a seeker after truth, beauty and goodness, and like 1.3B Catholics, someone who has found that in Christ. He is also like 466K clergy. Though people pressed him with "You'd make a good priest Brian" and "When are you going to stop fooling around and join the seminary?", he admits the choice for priesthood was not an easy one for him. Eventually, however, he handed himself over to God, was blessed with close mates in the seminary, and ordained a priest in 1992. As his silver anniversary gift, he receives a renewed and enlarged call from Peter's chair: "O Pastor of the Church, feed Christ's lambs and sheep".
Mention of 'the lambs' leaps out at us so soon after the final report of the Royal Commission. Clearly, some shepherds failed to protect the little ones as they should, terribly betraying their mission and people's trust. The Catholic community, especially its leaders, hang their heads in shame, apology, determination this will not be repeated. More than ever we need shepherds after the heart of Christ. Fr Brian has demonstrated such a heart in his service to God's people as a primary school teacher, pastor in 13 parishes, police chaplain, vocations director, hospital chaplain, Vicar-General and more. Now he brings that pastoral heart to Christ's flock in Wollongong.
When St Paul says tonight to "rejoice always; pray constantly; and for all things give thanks to God" (1 Thess 5:16-18) he is not just writing the new bishop's motto. No, he's describing priestly Christian life. When he says ἐí ðáíôὶ åὐ÷áñéóôåῖôå - for all things give thanks - he's using the word from which we get our word Eucharist. Bishop Brian must now make of his life a Eucharistic sacrifice of endless thanksgiving.

So my dear father, you must be a virtuous man of God, a holy priest of Jesus Christ, and now a wise bishop of the Catholic Church. By word and action you must teach what has been handed down to us from the apostles. "Treat that prophetic gift with respect," Paul reminds you, "always thinking before you act" (1 Thess 5:19-21) with the mind of Christ and His Church. From today you will wear a hat that speaks of the descent of the Holy Spirit upon the apostles' heads, of the Old and New Testaments of Christian faith, and of the two tablets of Christian morality: in other words, the hat of a teacher of sacred doctrine. You will also wear the ring of 'marital' commitment to God's People, especially to the Wollongong Diocese. And you will carry a crook that symbolizes your eagerness to watch over, unite and lead that flock, as St Peter charges you (1 Peter 5:1-4).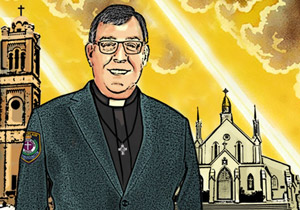 Dear brother, at the time St Peter was sitting in his chair, the Church seemed doomed, as the powers of this world - religious, political, cultural - all lined up against it. Persecution has come in waves ever since. For the likes of Bishop Peter - of Rome that is, not of Wollongong - it meant horrible martyrdom. Yet by God's grace the Church has survived and often been renewed precisely when it seemed most weak. Like Francis of Assisi we are called to rebuild the Church. That will require a teacher's head, a spouse's heart, and a shepherd's soul, as your new vestments tell. But the most important thing you will wear from tonight is the cross of Jesus Christ upon your heart.
Dear son, a few weeks before you were named bishop, I met you at the Holy Sepulchre in Jerusalem as you led a pilgrim group in the footsteps of Jesus. You were deeply moved, as I was, to celebrate Mass upon the very slab on which the dead Christ lay and from which He rose for our salvation. Even as your lifelong pilgrimage brings you now to Wollongong, you must in a sense keep your heart fixed on that sepulchre. For in the end, the Church is not built by the faithful, the clergy, even the successors of the apostles. No, it is Christ who builds the Church and His Church, not ours, that is rebuilt day by day. In it we join Peter in professing of Him: "You are the Christ, the Son of the living God!" (Mt 16:13-19) And so be priest, teacher, spouse and shepherd for us all, but above all else, be the servant, voice and image of Christ, not of yourself. Be so conformed to Him that when you are at the altar or teaching from the Chair of Brian we will dare call you alter Christus, little Christ, conduit of Christ, another Christ.
"O Pastor of the Church, feed Christ's lambs and sheep."
INTRODUCTION TO MASS OF EPISCOPAL ORDINATION OF MOST REV. BRIAN MASCORD
AND INSTALLATION AS FIFTH BISHOP OF WOLLONGONG
WIN Entertainment Centre, Wollongong, Feast of the Chair of St. Peter
Welcome to the episcopal ordination of Father Brian Mascord and his installation as Bishop of Wollongong. On this Feast of the Chair of Peter, we commend his future ministry to the intercession of the Prince of Apostles.
I acknowledge the presence tonight of His Excellency, the Apostolic Nuncio to Australia, Archbishop Adolfo Tito Yllana, who represents the successor of St Peter, Pope Francis. Co-consecrating with me tonight are Most Rev. Peter Ingham, Bishop Emeritus of Wollongong, and Most Rev. Bill Wright, Bishop of Maitland-Newcastle. I salute Archbishop Denis Hart, President of the Australian Catholic Bishops Conference, with most of the bishops of Australia.
I welcome visiting clergy, religious and lay faithful, from the Maitland-Newcastle Diocese and elsewhere; representatives of the other churches; many civic, business, religious, education, and community leaders; and other distinguished guests.
I also welcome Bishop-elect Brian's relatives and friends. How proud his beloved parents, Ron and Margaret, must be to see him tonight; so too his brother John and nephew Damien, his cousins William and David, and extended family.
Tonight the Chair of Peter becomes the Chair of Brian - in Wollongong at least - and I pay tribute to Bishop Peter Ingham for his faithful service as Bishop here for the past 16½ years. A good few in this region have been confirmed by him. Some more love him from his regular presence in parishes, schools and agencies. Others have been taught or led by him. And many have laughed at his 'Dad jokes'. He hands over a diocese in very good shape and well represented here tonight by priests, religious, seminarians, lay leaders and faithful, whom I especially welcome. This is a night of great rejoicing for the diocese, the province and the Church in Australia. To all present a very warm welcome!
To prepare ourselves to celebrate these sacred mysteries,
let us recall our baptism with the rite of blessing and sprinkling of holy water…