HOMILY FOR MASS FOR 1ST SUNDAY IN LENT YEAR B + RITE OF ELECTION OF CATECHUMENS - St. Mary's Cathedral, Sydney
Archbishop Anthony Fisher OP,
18 Feb 2018
HOMILY FOR MASS FOR 1ST SUNDAY IN LENT YEAR B + RITE OF ELECTION OF CATECHUMENS
St. Mary's Cathedral, Sydney, 18 February 2018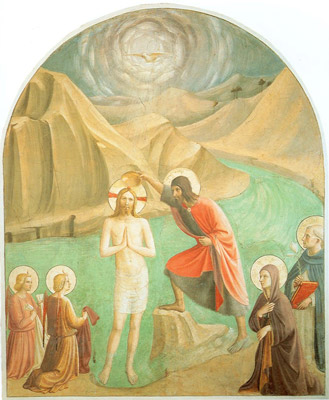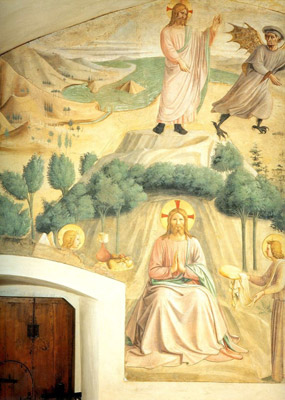 Were today not a Sunday it would be the feast day of Blessed Fra Angelico, a Dominican painter on whose feast day I took my vows, and the Patron Saint of Artists. After his fresco of The Baptism of Christ in his cycle for the friars' cells in the Dominican Priory of San Marco in Florence, comes The Temptation of Christ in which the Lord is depicted in the mountainous wilderness above the Jordan, dismissing a rather nasty looking Devil dressed as a renaissance banker and then being ministered to by angels. Here the artist seems to be following St Mark's version of the tale which we read today (Mk 1:12-15), rather than the more extended versions of Matthew and Luke (Mt 4:1-11; Lk 4:1-13) that fill in details about what the temptations were and how Christ resisted them, and so extended Mark's two verses to eleven or twelve. Mark's account is more coy, as it were about the internal moral and spiritual life of Christ as He entered into His public ministry, and it crystallized before the story grew in the retelling. Indeed this is Mark's usual pattern, sticking to the essentials before taking us, by an express route, to the events of Holy Week. But given what a powerful story-teller Mark was, we can presume he had his purposes in keeping the story so short and to the point.1
What might Mark's choice say to us at the beginning of Lent and (for some of us) at the beginning of our Catholic-Christian lives? In a word: focus. In the Gospels of Matthew and Luke the spotlight is on the three temptations themselves, on the parallels with Israel's trails in the desert, and on the rabbinical use of the Torah (specifically the Book of Deuteronomy) to answer the Devil. But by taking a step back Mark focuses our attention on the fact of Christ's temptations rather than their content. And here there are three lessons for us all.
The first is simple: in this life we will all endure trails of one kind or another. As the Letter to the Hebrews puts it, in Christ "we do not have a high priest who is unable to sympathize with our weaknesses, but one who has been tempted in every way as we are, yet without sin" (Heb 4:15). Jesus experiences forty days of trials, and demonstrates to us not just solidarity and sympathy but also that we can resist evil when it comes our way. "For this reason," writes a 16th-century Carthusian commentator, "the Lord desires the newly baptised and recent converts" - our catechumens and candidates - "to find comfort in his own example."2
Indeed, our story reminds us that we may at times be in the desert but we are never deserted! In only two verses Mark paints a spiritual ecology, as it were, in which for all His solitude Jesus is far from alone: He is driven by the Holy Spirit, tempted by the devil, accompanied by the beasts, and ministered to by the angels. A second lesson of our Gospel, therefore, is that Christ has not only gone before us in our trials, but is right there beside us in the thick of them. His Holy Spirit is also nearby. Far from separating us from God, times of spiritual struggle can be opportunities for deepening that relationship: "When disturbed by temptation and in danger of sin," St Alphonsus observed, the soul can have "recourse to the Lord and his divine Mother, can renew its determination to die rather than offend God, and can humble itself, taking refuge in the arms of divine mercy."3
This leads us to a third lesson of our short Gospel: the call to conversion. After demonstrating that we are not alone in our spiritual struggles, but that by God's grace we can overcome, Jesus then calls all Israel to 'repent and believe'. Notice, He calls to repentance before He calls to faith. Remove the obstacles to throwing yourself headlong into the Gospel adventure. Rid your-self of any distractions from attachment to God. Where by sinning you've turned away from the Lord, turn back, and be forgiven, comprehensively in Baptism or through that 'Second Baptism' that is Reconciliation. Pray, fast and give alms not just because it's the Lenten thing to do, but to signal and enable your conversion. Be confident that Divine Mercy is always waiting for you. As St. John Paul II pointed out and Pope Francis has echoed many times, "conversion to God always consists in discovering his mercy, that is, in discovering that love which is patient and kind (Cf. 1 Cor 13:4) as only the Creator and Father can be."4
Catholics used to call those who joined the Church as adults 'converts'. But Christ's call to conversion is to everyone and always: far from being a one-off event, we must turn back to Him, again and again: "Authentic knowledge of the God of mercy and tender love," Pope John Paul pointed out, "is a constant and inexhaustible source of conversion, not only as a momentary interior act but also as a permanent attitude, a state of mind. Those who come to know God in this way… must live in a state of continual conversion to him."
As we begin our Lenten way with Christ to His Cross and Resurrection, we are all called to join our converts by renewing our commitment to a life of continual transformation. We hear God's word, repent, confess, receive absolution, do penance, all the while taking comfort in the knowledge that Christ has suffered temptation with us and demonstrated that by His grace we can conquer our weakness. If we, too, are driven by the Spirit into the desert, we too will have God's angels ministering to us. Indeed, the God of mercy will enter the desert of our hearts and by His mercy turn them into springs of living water... (Jn 4:14; 7:38)
1Donald Juel, A Master of Surprise: Mark Interpreted (1994); Mitzi Minor, The Power of Mark's Story (2001).

2John Justus Landsberg, Sermons: Opera Omnia, I.
3 St. Alphonsus Ligouri, The Love of Our Lord Jesus Christ, ch. 17.
4 St. John Paul II, Dives in Misericordia, 13.
INTRODUCTION TO MASS FOR 1ST SUNDAY IN LENT YEAR B
+ RITE OF ELECTION OF CATECHUMENS
St. Mary's Cathedral, Sydney, 18 February 2018
Welcome to St Mary's Cathedral for the Mass of the First Sunday of Lent, our annual season of renewal, where we join Noah for his forty days in the wet and Christ for his forty days in the dry, contending with temptation through fasting and prayer, and demonstrating our victory - Christ's victory in us - through our acts of charity.
Today we also have the joy of celebrating the Rite of Election, in which our catechumens will openly declare their desire to enter into Christ through Holy Baptism and our candidates for full communion will declare their desire to join them and us in the Holy Communion of the Catholic Church. I am grateful therefore to Fr Don, Catherine Kennedy, Fr Emmanuel, Thomas Wilson and the St. Mary's Singers for organizing this Mass. A very special welcome to our catechumens and candidates, their sponsors and families, and their parish priests and pastoral teams!