INTRODUCTION TO MASS OF THANKSGIVING FOR THE DIAMOND JUBILEE OF ST CATHERINE LABOURÉ PARISH - 6th Sunday of Ordinary Time, Year B, St. Catherine Labouré Church, Gymea
Archbishop Anthony Fisher OP,
11 Feb 2018
HOMILY FOR MASS OF THANKSGIVING FOR THE DIAMOND JUBILEE OF
ST CATHERINE LABOURÉ PARISH
6th Sunday of Ordinary Time, Year B, St. Catherine Labouré Church, Gymea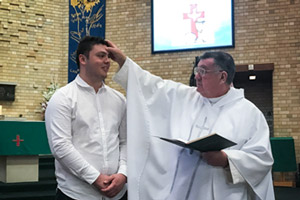 The British singer-songwriter Steven Demetre Georgiou is better known by his stage name, Cat Stevens. He was all the rage in my adolescence, and perhaps the young Fr Rayner crooned some Cat Stevens with his CYO group. Then, in my last year at school and to everyone's surprise, the Cat converted to Muslim, changed his name to Yusuf Islam, got rid of the guitars, and abandoned music to devote himself to religious and philanthropic causes. Since his recent return to the music scene, he's cut his name down to Yusuf and he recently toured Australia. Known for his reflective, almost spiritual folk-rock songs, such as
Father and Son
,
My Lady d'Arbanville, Morning Has Broken
and
Moonshadow
, his work suggests an ongoing struggle for meaning, direction, hope. In
Peace Train,
he says he's been "dreamin' about the world as one, and I believe it could be, some day it's going to come."
The aspirations seem natural, even Christian enough, but it's often unclear what their basis is or whether they'll ever be fulfilled. But in one of his more upbeat hits, Can't Keep It In, we sense his elation in the presence of the good and beautiful. "Oh I can't keep it in," Stevens sings, "I can't keep it in, I've gotta let it out. I've got to show the world, world's got to see, see all the love, love that's in me." Listening to today's readings, we might be forgiven for thinking such passages are behind Stevens' song! Given that his dad was Greek Orthodox, his mum Baptist, and his first school Catholic, it just might be so…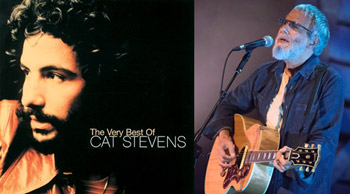 In our readings this morning, we see something of that same joy that Stevens sings of, a joy which just 'can't be kept in', must be let out. Isaiah is so overwhelmed by the sheer goodness of God he can't help shouting it from the rooftops and "singing of the Lord's goodness and of his marvellous deeds" (
Isa
63:7-9). The Psalmist is similarly enthusiastic: "I will sing a new song to you, O God; and play for you on the ten-stringed harp" - the Ancient Near Eastern guitar - "because you are my saviour"! (
Ps
144) Then we heard Paul effusing about the graces he sees in the faithful - their charisms, witness, steadfastness (
1Cor
1:3-9). Three examples, then, of a 'can't be kept in' kind of love. And then comes our Gospel (
Lk
1:39-55) where we meet three - or is it four? - examples of that shout-out-loud, tell-the-world kind of love and joy in one story…
First, there's the young John, who can't yet be seen or heard - he's an unborn child - but is so excited at Christ's coming he does summersaults in the womb, telling his Mum and the world beyond who's here. As a result, Elizabeth probably burped, but she also recited the second part of the Hail Mary: 'Blessed are you among women, and blessed is the fruit of your womb, Jesus.' The joy spreads like a virus to Mary herself, who also breaks out into one of the most famous hits of all time, the Magnificat, a song of rejoicing, love, hope and wonder.

These examples of being literally over-joyed - that is, so full of joy that spills over like water from an over-full glass - have much to tell us. All things considered, when we reflect on God's gifts to us, we should indeed be so full of love and joy, that we just can't keep it in - and that's not just at diamond jubilee times. It is the correct response to the wonder of God to be unable to contain our excitement and to want to share it with others. I'm reminded here of Archbishop Wilton Gregory, one-time President of the U.S. Bishops, saying that if the Gospel is such good news and Christians are so blessed, would someone please tell their faces! It really should make a difference!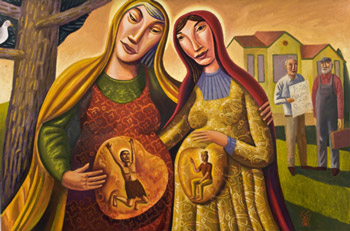 Christian faith is about the fourth person in the Visitation story, the Word-made-flesh, the embryonic Jesus, who is the Love of God the Father told as the Divine Word from all eternity and then told in time as human words. His is a love that overflows as creation, redemption, revelation, as liberation from sin and death, as healing, friendship, direction and delight. So we get faith, commandments, scriptures, sacraments, beatitudes, virtues, we get gifts galore, "grace upon grace" (
Jn
1:16). He came, he said, so that our God's joy might be in us and our joy be abundant, over-flowing, complete (
Jn
15:11; cf. 10:10).
Effusive joy, the love-that-can't-be-kept-in, is the first lesson from all today's readings and should be legible on the Christian heart and the Christian face. But before such joy comes the sense of need: Isaiah, the Psalmist, Paul, Mary all speak of God as mercy and saviour - in other words there is danger they needed saving from, sin or suffering that received the balm of divine mercy. We the Church, we humanity, are Israel in distress, waiting for a Saviour. We are the lowly, hungry, powerless Mary crying out in her Magnificat for deliverance. We may or may not suffer some physical malady, but every one of us, I guarantee, has some emotional-spiritual need. And the answer is the Babe in Mary's womb that Elizabeth calls my Lord, the blessed fruit, Jesus. It is the One to whom John the Baptist points to even from the womb. It is the He of whom Isaiah and all the prophets through to Cat Stevens dream of. He is the eternal, ineffable, healing love that communicates itself to every needy heart that asks.

So our two lessons complement each other: there is much to be sad about, but God turns sorrow into joy and so there is more to be grateful for; there is much to be sorry for, but Jesus converts sinner into saint, so that there is so much more to celebrate. The first ensures our joy does not become inane optimism, the second prevents our contrition becoming despair. The first reminds us to look to God, while the second ensures we don't forget out neighbour.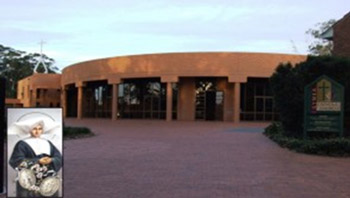 Which brings me to the parish of St. Catherine Labouré. Your patron spent over forty years of her life as a Sister of St. Vincent de Paul, experiencing visions including of the miraculous medal, and sharing with the elderly and infirm for whom she cared the mystical love she had for Christ and his Mother. I'm not sure how many of you have visions and medals - I know the Monsignor has some naval medals - but I do know that like St Catherine you have every reason here to have a good relationship with God and to want to share that with others. Sixty years along, you have a thriving parish school, a St. Vincent De Paul society, particular support for Margaret House Respite Care, weekly devotions to Our Lady Queen of Peace, a monthly Friendship Club and more.
We give thanks to Almighty God that your practising rate is good by Australian standards, and by Sydney standards, and perhaps the highest in the south. But that's no cause for complacency. Even as we overflow with diamond jubilee joy, we recognize that 4 out of 5 Catholics in the area are not at Mass on a Sunday and we ache for their presence with us. And so the challenge I set you for the next forty years in the lead up to your centenary is this: to spread your Christian joy and the causes for your hope far and wide, to give witness to your faith on your faces and in your lives, and so to reach out to the unchurched or those barely hanging in there. By the time of the centenary, I hope you'll have had to build a bigger church to accommodate all comers.
Happy birthday St. Catherine's Parish! Thanks be to God for you. Ad multos annos!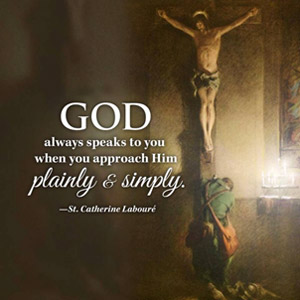 INTRODUCTION TO MASS OF THANKSGIVING FOR THE DIAMOND JUBILEE OF
ST CATHERINE LABOURÉ PARISH
6th Sunday of Ordinary Time, Year B, St. Catherine Labouré Church, Gymea
My dear friend Monsignor Rayner, Treasurer Scott Morrison, local state members Eleni Petinos for Miranda and Mark Speakman Attorney General and Member for Cronulla, Councillor Kent Johns, State Liberal Party President and local Councillor, Councillor Barry Collier, parishioner and former State member for Miranda, Mayor of Sutherland Shire Councillor Carmello Peske, and Martin Iffland our parish chairman, and all other distinguished guests, dear brothers and sisters, it is a great joy for me to be here this morning to celebrate the Diamond Jubilee of the parish. As we begin our Mass today, we remember with gratitude all those who built this parish over the six decades past, those who serve in it still, and commend it to Almighty God over the decades ahead.