HOMILY FOR OPENING AND BLESSING OF DOWNSIDE HALL - Rosebank College, Five Dock
Archbishop Anthony Fisher OP,
1 Sep 2017
HOMILY FOR OPENING AND BLESSING OF DOWNSIDE HALL
Rosebank College, Five Dock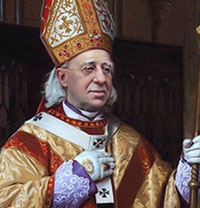 In 1802 an orphan boy was placed in the care of his uncle, Father Bede Brewer, leader of the English Benedictine Congregation. Uncle Bede entrusted the eight-year-old boy to the Benedictine nuns of Cambray, who'd fled revolutionary France to Much Woolton near Liverpool. At age 11 they handed him over to St Gregory's Benedictine College at Acton Burnell in Shropshire. There, at age 15 he was admitted to the monastic community, taking Uncle Bede's name in religion. Four years later the community transferred to the Abbey of St. Gregory the Great at Downside and it was there in 1819 that the newly ordained priest sang his first Mass.
1
John Bede Polding was a quick learner and natural leader, excelling in school and seminary studies, and holding various offices in his monastery and congregation, and in his old school where he now became a teacher. He endeared himself to the students, and was known for his love of the Catholic faith, drama, cricket, England and the Irish. Nothing could unite those several loves so well as the Colony of New South Wales in which he took a romantic interest from boyhood onwards.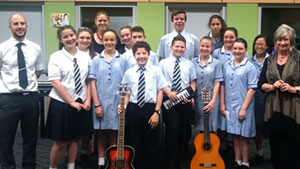 As Divine providence would have it, Polding was appointed Titular Bishop and Vicar-Apostolic of New Holland. He arrived in Sydney Town in 1835 with a Dominican priest, Fr James Corcoran OP, in tow and five students. In 1842 he was named Bishop of Sydney and, 17 days later, first Archbishop of Sydney, as well as "Metropolitan of Australia, Van Diemen's Land, the Gambier Islands, etc.", an office he held until 1877.
"The Bishop of Botany Bay", as he was affectionately known, was a man of deep piety and generous heart, a born missioner who scorned every personal hardship to bring the faith to his far-scattered and disadvantaged flock. He laboured incessantly to build up the Church in Australia, its buildings, clergy, nascent hierarchy and, above all, its people. He criss-crossed the country, mostly on horseback, attending pastorally to his people (especially to the most desperate convicts), catechising and caring for them. Within a few years he had personally instructed seven thousand convicts so that they might receive the sacraments! Following the Lower Canada Rebellion of 1838, 2 Irish and 58 French Canadian rebels were deported to Australia. At Polding's request, they were brought to Sydney where he could ensure their pastoral care. Imprisoned at Longbottom Stockade (at what is now Concord Oval), the convicts broke stone for the construction of Parramatta Road and collected oyster shells for making lime, and so the area became known as "Canada Bay". Polding also engaged with the politics and culture of this fast-growing nation, established parishes and missions, presided over two provincial synods, founded St John's College in the University of Sydney, consecrated Old St Mary's and commissioned the new St Mary's Cathedral after the first (and second) burnt down, and, of course, with Mother Scholastica Gibbons RSC started the Sisters of the Good Samaritan in 1857.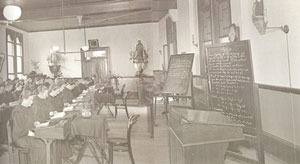 Though he sometimes displayed an "aristocratic" formality, Polding was a good example of the "unstinting hospitality" and "Godly service" praised in our Epistle this morning (
1 Pet
4:9), a hospitality and service Benedictine and Good Samaritan to the core. This included hospitality to the young and service to education, founding many schools including this one. In the beautiful new book,
Sursum Corda: Lift Up Your Hearts
, Thomas Westenberg tells the story of Mother Agatha Cassidy and the "Good Sams", as they were soon known, establishing a Convent and School in 1867 on what was then the furthest outskirts of Sydney - at Concord near the former Canada Bay stockade.
In the following year, at Polding's request, the Rosebank Estate was purchased and the school moved here; a room was set aside for him to rest in on his arduous journeys to Parramatta… There was soon a day school (1868), residence (1876), boarding school (1877), and chapel (1879), and in 1880 the altar, brought by Polding from Downside, was installed - though by then he had gone to God. In the century and a half of its life since, Rosebank College has grown enormously and been enriched physically and spiritually, the latest addition being this Sesqui-Centenary Downside Hall. Sadly the girls no longer wear the bonnets for which they were originally famous, and so the students have had to make their mark in other ways, principally I hope by the fineness of their characters, the sanctity of their souls, and the excellence of their academic and other results!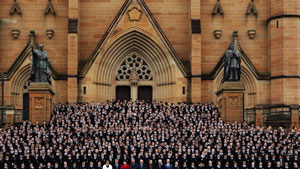 In reading through the College history, I was intrigued to find a book review of the novel
An Episode of Sparrows
, by Rumer Godden, published in the school newsletter in 1975 (p. 130). The young reviewer, Sheridan Griffith, notes that "The story is moving and sometimes sad, but it has a happy ending." Strangely, I recently referred to that very same novel in a homily at the seminary. I reflected on the education that the main character, a ten-year-old girl called Lovejoy, receives from her young Irish friend, the gang-leader Tip. Over the course of the novel Lovejoy develops a deep devotion to Our Lady; though she doesn't even know the words of the
Hail Mary
, she engages deeply in prayer, that intimate conversation upon which we build the friendship with God and the saints to which our Gospel calls us (
Jn
15:15).
Now, I am confident that Rosebank students know the words of the Hail Mary! And I know that the College aspires to "draw on ancient wisdom for a modern world", to be a school "committed to innovation, to care, to the values of hospitality, love, peace and stewardship", to give the students every opportunity to develop their academic and other gifts, and to ensure that encounter with Jesus Christ that lifts up our hearts.
In opening and blessing Downside Hall this morning, we have come full circle to the very origins of this College in the mission of Sydney's first Archbishop, John Bede Polding, and his origins at Downside. Looking through the school history there are words and photos not just of past deeds but of an exciting present, with award-winning scholars, dancers, computer-operators, cooks, sports champions, scientists and artists and so much more (pp. 190-3). The boy from Downside would be very impressed; his successor as Archbishop certainly is! In opening and blessing this new hall it is my hope that Rosebank College will provide that same all-round Catholic education for the next 150 years of its life. God bless you all. God Bless Rosebank College!