HOMILY FOR MASS FOR 17TH SUNDAY ORDINARY TIME YEAR A - St. Mary's Cathedral, Sydney
Archbishop Anthony Fisher OP,
30 Jul 2017
HOMILY FOR MASS FOR 17TH SUNDAY ORDINARY TIME YEAR A
St. Mary's Cathedral, Sydney
Our three parables this morning (Mt 13:44-52) compare the joy of finding the kingdom of heaven with the excitement people in Jesus' world experienced on finding natural resources (like gold in a field), human inventions (like pearls set and retailed by merchants), or spiritual goods (like the "good fish'' sorted from the bad ones by the angels). In a more modern parlance, Jesus might have compared entering His kingdom with discovering oil or gas in a field, or designing a new computer app called Google, or chancing upon a winning lotto ticket. But there's more to these stories than just the luck of striking it rich…
For one thing, whatever part luck or (better) providence plays in our stumbling upon what we treasure in life, there is some human effort, discernment or choice involved in all three of Jesus' stories this morning. Of course, for some, as Pope St. Gregory the Great pointed out,1 faith, wisdom, vocation only come after a long, deliberate, often difficult search, as for the man searching for gold (or a world-changing computer app); while for others, faith or vocation seem to strike suddenly, even when least expected, as for the man who hauls in fish of all kinds (or wins the lotto). But whether grace is sudden or more gradual in its operation, we must play our part, having our metal detector switched on, our net in the water, our eyes open for pearls.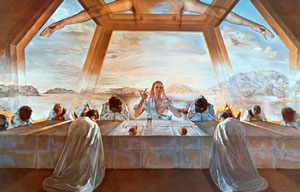 Secondly, as the third-century Church Father, Origen, pointed out, the pearl of great price is not prized just for its resale value, but also and above all because it is so beautiful.
2
Finding God and His kingdom, Jesus is suggesting, is not just worth more than anything else we treasure, it is also
more
beautiful, morewonderful, moremagnificent than anything we have ever known.
Thirdly, our parables suggest that seeking the gold nugget, the pearl of great price, the good fish, takes not just open eyes and an appreciative heart, but also time. Our fellows in the parables search, perhaps for years, and respond for years to come; their horizon, Jesus tells us, is "the end of time, when the angels will appear and separate the wicked from the just"; they bring their household "both new and old".
As Christians, we are uniquely connected to time. We draw upon events two millennia and more ago, as the foundations of our faith and morals, of what we truly treasure; we aspire to a future full of promise, to Christ's second coming, when wheat and tares, good fish and bad, will finally be distinguished and rewarded accordingly; but we live in the present, making Christ's past sacrifice for our world and His future restoration of that world still present and already present here and now.

But how can we stretch back into the distant past, and forward into the unknown future, and yet keep our feet firmly on the ground of today? Above all through the Mass. The Eucharist is our most intimate experience of that eternal now, as Jesus' Last Supper with the Twelve and His future Supper of the Lamb in Heaven are united on our altar and experienced even now. At Holy Communion we are transported to Bishop Marcuzzo's Holy Land two thousand years ago, and forward into the Promised Land many years into the future, more truly, more wonderfully, than any sci-fi time-traveller. And through living Eucharistic lives we unite those memories and dreams, Calvary past and future Heaven, all in the present: the treasure-hunt and treasure-finding are for the here and now.
For the Christian God is not just a god who did some big things for us in the old days; not just the god who will do some big things with us someday; He is God doing great things for us and with us and in us, right now and in every moment. He is the God whom we glorify "as it was in the beginning, is now, and ever shall be". As the 17th Century French Jesuit Jean-Pierre de Caussade wrote, "God speaks to every individual through what happens to them moment by moment... If we have abandoned ourselves to God, there is only one rule for us: the duty of the present moment."3

Speaking of Jesuits and time, Pope Francis is very fond of saying "time is greater than space". He quotes this aphorism in all four of his encyclicals and exhortations.4 There has been quite some discussion about what precisely he means. But one clear message has been that we must be patient. It takes time to strike gold, to find the pearl of great price, to haul in the right fish. It takes time to search for the truth, to build trust, to co-operate in making God's kingdom come. Political-bureaucratic planning and self-assertion alone will never bring us to that "fullness''. We might control the space around us for a while but will not always get what we want, when we want it. The best things happen in God's good time and in the mean time we must persevere, living in the now, working slowly but surely, "without anxiety, but with clear convictions and tenacity", leaving room for the Holy Spirit.
The pearl of great price that is the kingdom of heaven is worth the wait, for it is so beautiful. "No-one knows the day or the hour" when the kingdom of God will come, Christ reminds us (Mt 24:36; 25:13), yet the kingdom is already among us and within us (Lk 17:20-21) because, as Jesus promised, "I am with you always" (Mt 28:20).
AFTER COMMUNION
St. Mary's Cathedral
Here is the cathedral we sport a very beautiful image of Our Lady of the Southern Cross - a properly Australian title for Mary. But it is, of course, a rather Western image. The Australian lieutenancies of the Order of the Holy Sepulchre of Jerusalem have commissioned a leading iconographer to write a beautiful icon of Our Lady of the Southern Cross in a more oriental style. Recognized by papal bull in 1113 the Order long defended the Holy Sepulchre in Jerusalem where Christ was buried and rose from the dead and the other holy places under the command of the Christian King of Jerusalem and the crusaders. When the Latin Patriarchate of Jerusalem was restored in 1847 by Blessed Pius IX, the Order was reorganised and the Patriarch, Bishop Marcuzzo's ordinary, made its Grand Prior. The 30,000 members of the Order, organised into 60 Lieutenancies around the world, continues to do much good work for support of the holy places, of the struggling Church in the Holy Land, and for the poor and for peace in those parts. It will be my privilege now to bless the icon so it may be presented to Bishop Marcuzzo as a gift to the Latin Patriarchate of Jerusalem from the Order in Australia.
INTRODUCTION TO MASS FOR 17TH SUNDAY ORDINARY TIME YEAR A
St. Mary's Cathedral
Welcome to St Mary's Cathedral for our Solemn Mass this morning. Though you've often heard me speak of it from this pulpit, a recent Catholic Weekly article highlighted that not only are Christians the most persecuted religious group in the world today, but that there has been a deafening silence about this from the media, as well as national and international institutions. Even some Christians have been slow to respond, and Pope Francis recently suggested that such silence can be complicity. Though the persecution occurs in many parts of the world, it is nowhere more dramatic than in the Middle East where there are forces seeking the expulsion, even genocide, of Christians. So I'm especially pleased to welcome His Excellency Bishop Giacinto-Boulos Marcuzzo, until recently Bishop of Nazareth and now Auxiliary Bishop of the Latin Patriarchate of Jerusalem.
Bishop Marcuzzo is no stranger to our shores as he led the Holy Land contingent that attended the Sydney World Youth Day. This time he is here preaching a retreat to 70 members of the five Lieutenancies of Knights and Dames of the Holy Sepulchre of Jerusalem from all around Australia, as well as representatives from New Zealand, the Philippines and Taiwan, and I welcome them to the mother church of Australia today. I also welcome Bishop Richard Umbers, Auxiliary Bishop of Sydney, who will this morning be installed in that Order, and Bishop Columba MacBeth-Greene OPPSE, the Bishop of Wilcannia-Forbes, also of the Order.
In these troubled times in the Middle East, it is a particular privilege to pray with and for our brothers and sisters in that part of the world with one of their spiritual leaders: I ask your Excellency to assure the Christian people in the Holy Land of our continuing solidarity with them in their struggles.
To everyone present today, including visitors and more regulars, a very warm welcome!