Awards for Excellence
Catholic Communications, Sydney Archdiocese,
8 Sep 2017
By Catherine Sheehan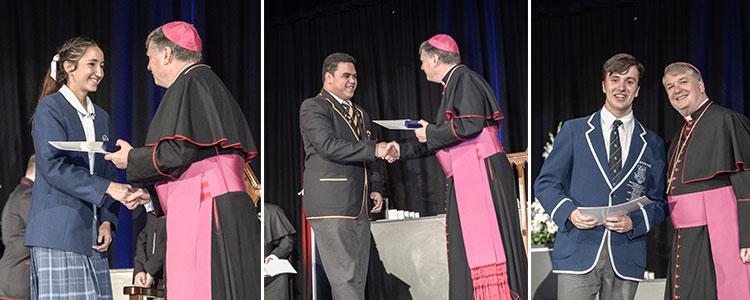 OUTSTANDING students from Catholic secondary schools across the Archdiocese were today presented with awards for excellence from Archbishop Anthony Fisher OP.
The 49 students were individually recognised during a ceremony at St Mary's Cathedral College Hall in front of their peers, teachers and proud families.
The Awards for Excellence recognise their service to their school and parish communities, as well as their witness to the Catholic faith and academic excellence.
They are an important way of highlighting the very positive contribution that young people make with many of the students volunteers across a range of community organisations including homeless shelters and the St Vincent de Paul food van.
"It is my opportunity to recognise and congratulate the leadership and example that certain young people have given in our schools as part of the Church's broader mission to preach the Gospel of Jesus Christ to 21st century Sydney," Archbishop Fisher said during the ceremony.
The Archbishop also commended Episcopal Vicar for Education, Fr Michael McLean, and the Executive Director of Sydney Catholic Schools, Dr Dan White, for their strong leadership in Catholic education.
"We sorely need good leadership at this time in our history," Archbishop Fisher said.
The Archbishop of Sydney Awards for Excellence were established in 1999 by Cardinal Edward Clancy and are an annual event.
In his address Dr White said that the recipients are young people who have embraced those who are "on the margins" through their "sense of social justice".
Following the award ceremony, award winners and their families and friends joined the Archbishop for a prayer service in St Mary's Cathedral in honour of the Feast Day of the Nativity of the Blessed Virgin Mary.
Each of the recipients received a medallion from the Archbishop with the Archbishop's coat of arms and motto and a certificate.