From the Silver Screen to the Sanctuary: Father John Nguyen OFM Cap
Catholic Communications, Sydney Archdiocese,
28 Feb 2017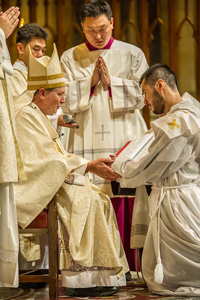 St Mary's Cathedral was filled to capacity on Friday evening to witness Archbishop Anthony Fisher OP ordain Father John Nguyen OFM Cap., the Capuchin Friars' newest priest.
Father John, of Vietnamese heritage, was born in Sydney and grew up in Villawood. He credits the parish community of Sacred Heart, Villawood, and in particular its long-serving parish priest, Father Kevin Spillane who died last year, with fostering his vocation to the priesthood. As a young boy, Father John persuaded Father Spillane to let him serve as an altar boy before he was of age, and has not ceased serving at the altar since that time.
After finishing schooling at Patrician Brothers', Fairfield, Father John pursued studies and a career in architecture and dabbled in film, even scoring a role alongside Australia's Cate Blanchett in the 2005 film Little Fish. Also in 2005, Father John attended World Youth Day in Cologne. Father John says that, after serving Mass for Cardinal George Pell during the World Youth Day pilgrimage, the Cardinal asked him directly: "Have you ever thought of becoming a priest?"
After spending a year on the mission team for Catholic Youth Services in 2008, Father John entered the Capuchin postulancy to begin his journey towards the priesthood. He was joined by members of his family, friends, the Capuchin Young Adults, the broader Vietnamese Catholic community, parishioners from Sacred Heart, Villawood, staff from Patrician Brothers', Fairfield, his mission team members from Catholic Youth Services, and - as Father John articulated - the "treasure of the Church," being those to whom he usually ministers on a Friday night through the Friars' Van ministry.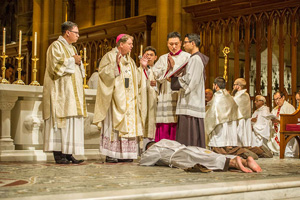 "Thank you for finding refuge here for the past few hours," Father John said.
In his homily, Archbishop Fisher reminded the ordinand that the priesthood is not about the lowly priest but about Jesus Christ, the High Priest. "A priest is not his own man; he does not act out of his own genius or learning, his own virtue or vanity, not even his own passion and compassion," Archbishop Fisher said. "No, he is God's man, and when he speaks, it must be God speaking not him," he continued. Encountering the way Christ works through the priest, Archbishop Fisher said that the priesthood was 'awesome' in both senses in which the word is used today: terrifying, because Christ chooses lowly men as His Priests, and wonderful, because of what He can accomplish through them.
Father John invited Father John Tran Quang Thien, the priest who baptised him 34 years ago, to vest him with his stole and chausible, providing a moving continuity between his baptismal call and the call to the priesthood. Also vesting Father John was Father Lam Vu OFM Cap, who Father John will join in South Brisbane as assistant priest.
At the conclusion of the Mass, Father John expressed his gratitude to those gathered, promising his life for them: "A man can have no greater love than to lay down his life to his friends. You are my friends. I lay down my life for you," he said.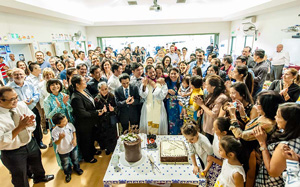 His two thanksgiving Masses were held on Sunday, at Villawood and Plumpton.
The Capuchin Friars are an international fraternity with over 10,000 friars across more than 100 countries. Today in Australia the Capuchins live in fraternities in Sydney, Melbourne, Brisbane and Adelaide. They undertake various works of evangelization including parish activity, assistance to migrants and other apostolates. For more information see http://www.capuchinfriars.org.au