Gloria, 80 Connects to Help on iPad with Assistance from CatholicCare
Catholic Communications, Sydney Archdiocese,
15 Feb 2017
By Debra Vermeer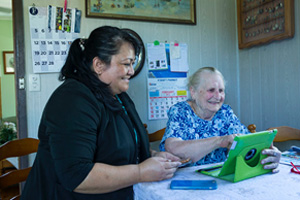 When Gloria received an iPad for her 80th birthday, she didn't know how to use it, but was keen to learn. Now, thanks to her dedicated support worker from CatholicCare, she's now a regular on Facebook and loves to surf the net and keep in touch with the wider world.
Teaching Gloria to use her iPad was one of a number of social supports that CatholicCare introduced for her when they began their weekly visits, following her release from hospital.
Gloria's support worker at the time, Monica, believed that Gloria was more than capable of learning to use the iPad, and says that motivation and empowerment are among the guiding principles in the work that she does, with age posing no barrier.
"Every week when I would visit Gloria, we'd take about 20 minutes to sit down and take lessons on the iPad," Monica says.
"At first, she said it was impossible for someone her age, to learn how to use an iPad, but I encouraged her and said to her, 'you're a whiz on your mobile phone, and if you can work your mobile phone, you can do this'.
"Now, she knows how to search the web and look at photos of animals, dogs and flowers and things she likes. She also learnt to use the camera and she takes photos of her dog Robbie and shares them online. And she checks her emails. Gloria's sight is deteriorating. But she is determined to continue being active online; she enlarges the fonts and uses a magnifying glass to help her read her emails.
"She is on Facebook every chance she gets. She knows the basics of navigating Facebook - she comments, likes, shares, is familiar with the language used on Facebook and sends messages. It helps her keep up with news of her family and grandchildren. And if I see her on it then I know she's OK. It helps keep her in touch."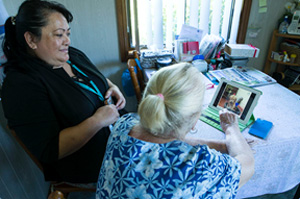 Gloria says that despite her initial misgivings about learning to use such new technology, she's now a big fan.
"I love my iPad. And Monica taught me most of what I know on it," she says.
In fact, Gloria says she loves all the different aspects of her relationship with CatholicCare.
"Oh, it's wonderful, absolutely wonderful. I love CatholicCare and I always have because they've been very good to me," she says.
"They do my housework and take me to the doctors, take me shopping and it's great."
Monica, who is now Gloria's Support Facilitator, says that along with some domestic assistance, CatholicCare mainly offers Gloria social support.
"So, for instance, we take her shopping. But not just to the local shopping centre, we explore other shopping malls," she says. "Every week is a different adventure. Sometimes elderly people are reluctant to try something new, but now Gloria looks forward to her weekly outings. Gloria's new support worker tends to surprise her every now and then by taking her to new retail outlets that sell her favourite things."
Gloria says that the support workers from CatholicCare have become an important part of her life.
"Oh, they do become (like friends)," she says.
Monica agrees that CatholicCare's social support is enriching for both parties and says Gloria's current support worker always looks forward to seeing her.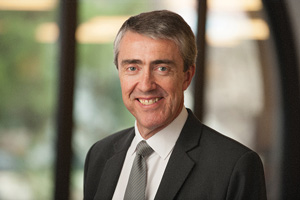 "You do form a bond with the people you visit each week, and our visits become the highlight of their week," Monica says. "As for me, it's so rewarding to see that, in a small way, we are actually making a huge difference in people's lives.
"At Christmas, Gloria crochets coat hangers and tea towels for us, which we so humbly appreciate, because we know how much effort she puts into making them despite her deteriorating condition."
For anyone considering whether CatholicCare could help support them in their daily life, Gloria doesn't hesitate.
"Using CatholicCare services, I would highly recommend. They are wonderful people," she says.
To find out more about CatholicCare, call the brand new Customer Service Team on 13 18 19