Visiting British Academic Baroness Hollins Discusses The Medicine of Mercy
Catholic Communications, Sydney Archdiocese,
15 Apr 2016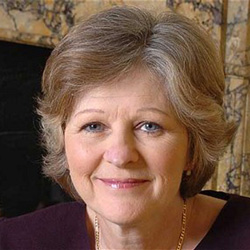 Eminent Professor of psychiatry of learning disability and member of Pope Francis' Pontifical Commission for the Protection of Minors, Baroness Sheila Hollins, visited Australia this week.
Earlier in the week Baroness Hollins spoke to a gathering in Sydney with Fr Frank Brennan before going to Melbourne to receive an Honorary Doctorate from the Australian Catholic University.
The following is an article from the Melbourne Media and Communication Office.
DISTINGUISHED English academic Baroness Sheila Hollins, who is in Melbourne for the Archbishop's Office for Evangelisation, has delivered a public lecture at the Australian Catholic University's Melbourne campus, on the subject of 'The Medicine of Mercy'.
Additionally, she has received an Honorary Doctorate from the ACU's Professor Greg Craven.
Baroness Hollins has had a remarkably diverse public life. She is Emeritus Professor of the Psychiatry of Learning Disability at St George's (University of London). She was also President of the Royal College of Psychiatrists from 2005 to 2008, and in 2010 was created a Crossbench Life Peer in the House of Lords.
From 2012 to 2013 the Baroness was President of the British Medical Association (BMA) and is currently Chair of the BMA Board of Science.
In 2014 she was appointed by Pope Francis to the Pontifical Commission for the Protection of Minors, an advisory body to the Holy Father. Baroness Hollins has also been a leader in the area of palliative care and assisting people with issues of grief and bereavement.
In delivering her lecture in the ACU's Philippa Brazill Theatre, the Baroness based her talk on Pope Francis' declaration of a Jubilee Year of Mercy, and developed many themes around mercy, focusing in particular on the power of listening. Few of her listeners were aware of it, but apart from being, as she described herself, 'a psychoanalytically trained psychotherapist, a wife, mother and grandmother', she is also a lay Benedictine profoundly influenced by the thinking of St Benedict, the first word of whose Rule is 'listen'.
Listening has become, she shared, a fundamental way of living the life of mercy and healing with which she has been involved for all of her working life. Mercy, listening, empathy, compassion are all part of the healing of mind, body, spirit, the audience was reminded.
'Body, mind and spirit are one and need to be one,' Baroness Hollins affirmed.
Developing these themes of mercy in medical and psychiatric practice, the Baroness cited the 6 Cs, part of a culture of care barometer developed in the hospital system in the UK.
They are:Care, Compassion, Competence, Communication, Courage and, Commitment
'The elements in the barometer are the resources to deliver quality care, the support needed to do a good job, a worthwhile job that offers the chance to develop and the opportunity to improve team working,' said Baroness Hollins.
The Baroness also touched on Pope Francis' writings, as well as Pope John XXIII's address at the Vatican Council, when he remarked, 'this Council is the beginning of a new day, not its climax.' In the time since that Council, she pointed out, the Church has shifted away from opposing errors with severity towards, instead, the 'medicine of mercy'.
Baroness Hollins also integrated stories of her personal life into her lecture, highlighting the many ways in which her personal experience has impacted on her professional roles - a year spent in Eastern Nigeria teaching at a girls' school in the rainforest, bringing up a disabled son, now in his forties, being stricken by a random knife attack on her daughter which left her paralysed and mute.
As a result of her own training and the circumstances of her life, Baroness Hollins began to specialize in working with intellectually disabled children and adults, discovering along the way how vulnerable they were to abuse and neglect.
As part of her concluding remarks, the Baroness stated most emphatically, 'People need to be heard, before they can learn to LISTEN. Most of all, ongoing mercy and compassion are essential for those who have been hurt, who need and deserve a long-term commitment to their healing and care.
'And empathy is needed for those who did harm to someone more vulnerable than himself or herself - recognizing that the perpetrator has almost certainly been a victim themselves.
'Ultimately,' concluded Baroness Hollins, 'God is the source of the Mercy we need, both for ourselves and to enable us to be merciful to others.'
In her next public appearance in Melbourne Sheila will be joined by the Vice President of L'Arche International, Eileen Glass, for a reflection on the parable of the Good Samaritan, as part of the 'Taste and See' series in Melbourne.