Youth Respond with Prayer for Archbishop Fisher's Speedy Recovery
Catholic Communications, Sydney Archdiocese,
6 Jan 2016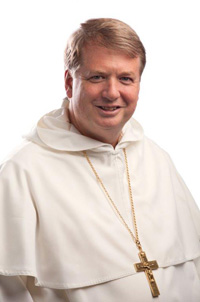 The young people of the Archdiocese of Sydney have responded with heartfelt support for the Archbishop's speedy recovery following the announcement this week of his diagnosis with Guillain-Barré syndrome. Hearing that the Archbishop had fallen ill at Christmas time and was this week in intensive care prompted many of the youth leaders in the Archdiocese to alert their networks through social media of the need for prayers and support.
As a result, young people in various groups throughout the Archdiocese are combining for an evening of prayer for the continued recovery of Archbishop Anthony Fisher. It will take place at Sacred Heart Parish, Darlinghurst this Saturday evening 9 January.
The night of prayer will begin with Vigil Mass at 5pm with special petitions for the Archbishop as well as Mass parts and hymns being sung by the ACU choir.
At 6.15pm exposition of the Blessed Sacrament will begin and continue until 7.30pm.
This evening is being organised by Catholic Youth Services, Catholic University Chaplaincies, University of Notre Dame and Australian Catholic University.
The event has been posted on Facebook this week and has already received notices of attendance from hundreds of young people. University students, those involved in youth ministry and youth generally from parishes across greater Sydney will all be in attendance.
Bernard Toutounji, Director of Catholic Youth Services in the Archdiocese of Sydney is one of the organisers of the event and expressed there is a high level of support amongst the various Catholic youth networks in Sydney for Archbishop Fisher.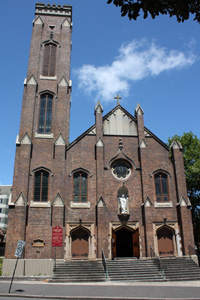 "I hope they will come together in great numbers as the young Church of Sydney to really demonstrate our affection for and spiritual closeness to our Archbishop at this time."
Archbishop Fisher has a keen interest in and commitment to youth ministry with a strong rapport amongst many young people in the Archdiocese of Sydney and the Diocese of Parramatta where he previously served. His passion for youth ministry was keenly expressed when he was coordinator of World Youth Day in Sydney 2008 which welcomed hundreds of thousands of young people, nationally and internationally to Sydney along with a visit from Pope Benedict XVI. He is also the Australian Catholic Bishops' Delegate for Youth and last December hosted the Australian Catholic Youth Festival in Adelaide which attracted over 3,000 young Australians.
Fr Anthony Casamento, Director of Identity and Mission at Australian Catholic University is expecting many university students to attend.
"The ACU Community is certainly keeping the Archbishop in our prayers at this time for a speedy recuperation" he said.
Reports from the Archdiocese this week indicated the Archbishop is responding extremely well to treatment at St Vincent's Hospital and expects to move shortly out of intensive care to begin a time of rehabilitation and physiotherapy. This has inspired many people to continue praying for the Archbishop's full recovery as soon as possible.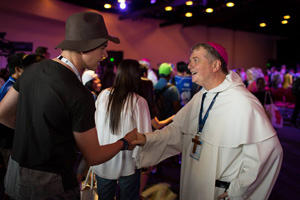 Messages of support, prayer and encouragement for the Archbishop have been flowing in from far and wide through social media and through the Catholic Communications office of the Archdiocese of Sydney.
To leave a message of support for Archbishop Fisher go to http://www.sydneycatholic.org/people/archbishop/support.asp.
For more information about the evening of prayer for Archbishop Anthony Fisher go to https://www.facebook.com/events/1035842519795491/.