Visit St Mary's Cathedral Advent Door and Light a Candle for Christmas
Catholic Communications, Sydney Archdiocese,
20 Dec 2016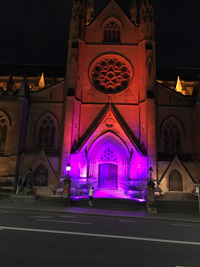 People are encouraged to make a special visit to St Mary's Cathedral in this last week of Advent and light a special candle for Christmas - for their family, friends or people they cannot be with this year.
If you visit the Cathedral at night during the Lights of Christmas you can enter via the western door facing Hyde Park which is ringed by a purple light which highlights the entrance and complements the digital light display on the Cathedral facade.
Thousands of people have already visited the Cathedral forecourt each night to see the Lights of Christmas Presented by Payce and many have also taken advantage of the Cathedral being pen for visitors.
Since 2012, CREDO has coordinated a Light a Candle for Christmas outreach and welcomed many visitors into the Cathedral.
"We are there to welcome people, encourage them to pray and light a candle for Christmas," Cathy Kennedy from CREDO said this week.
"Hundreds have already taken up the invitation. We are happy to guide them through the Cathedral to the Blessed Sacrament and there are also priests available for Reconciliation.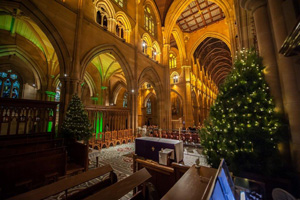 "We want to create the opportunity for people to encounter Christ, to have a positive experience of visiting a Catholic Church and perhaps rebuild a tradition of frequenting churches.
"The measurable fruit of the outreach are those who are visibly moved by the experience, who choose to stay and pray for a time, those who thank us as they leave, who ask for the Mass times and also those who return to confession after many years."
However everybody is welcome. It is a very special time of year and visiting the Cathedral and lighting a candle for a loved one who may or not be able to be with you at Christmas creates a special and lasting memory.