Caritas Australia Celebrates 50 Years of Project Compassion
Catholic Communications, Sydney Archdiocese,
21 Jan 2016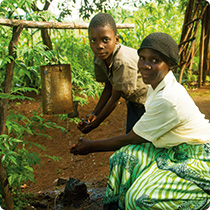 Caritas Australia, the international aid and development agency of the Catholic Church will launch its annual Lenten campaign, Project Compassion, early next month.
Now one of Australia's largest humanitarian fundraising and awareness-raising campaigns, Project Compassion will also celebrate its 50 years of helping the world's poor.
Each year Project Compassion, which runs through the six weeks of Lent, has been supported by people right around the country, in communities, schools and parishes. Their generous donations, which last year achieved a record-breaking $11.57 million, bring relief and support to hundreds of thousands living in poverty. The money raised also provides for long-term development programs, promotes justice and upholds the dignity of those struggling to live and support their families in more than 40 countries across Asia, Africa, the Pacific, Latin America and our own Indigenous communities.
This year the theme for Project Compassion is "Learning more, creating change."
"Lent is the time of year when we put our faith into action through prayer, fasting and almsgiving," Caritas CEO, Paul O'Callaghan says.
"Learning more, creating change" will celebrate the power of learning and the many ways in which Caritas Australia is working with local partners around the world to provide vital learning and renewed hope to those most marginalised.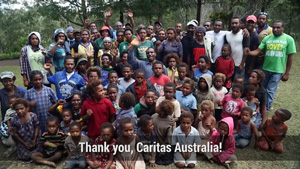 The 50-year milestone and the official launch of Project Compassion 2016 will this year be at the Ash Wednesday Mass at St Mary's Cathedral at 12pm on the 10th February.
Mr Martin Mazinga, National Programs Coordinator at the Catholic Development Commission Malawi (CADECOM) will share with the congregation how Caritas Australia's support has created opportunities for communities in Malawi.
Archbishop Anthony Fisher OP will not be able to celebrate the Mass as he is in rehabilitation following his hospitalisation with Guillain Barre Syndrome however he has passed on the message that he is grateful for the continued prayers and contributions to Project Compassion and has invited everyone to "take up this year's appeal with a renewed sense of solidarity with marginalised and vulnerable communities around the world".
During Lent, Australians are invited to support Project Compassion by direct donation, or by holding fundraising events. These include Caritas Ks, where participants raise money by walking, running, cycling or swimming kilometres for compassion, and Fish Fridays, where people eat small fish meals and make a donation to Caritas Australia.

To donate to Project Compassion, or for fundraising ideas visit www.caritas.org.au/projectcompassion or phone 1800 024 413
Donation envelopes will also be available in parishes as well as the iconic Project Compassion boxes.