Calls for Prayers and Support After the Fire Storm in the Diocese of Bunbury Left a Small Town Devastated
Catholic Communications, Sydney Archdiocese,
14 Jan 2016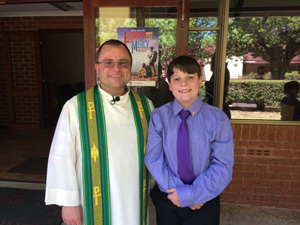 The small town of Yarloop in Western Australia, home to around 500 people, has been ransacked by fire.
Fire authorities believe about 140 homes and buildings have been lost. The fires have claimed the lives of two men.
Historical buildings in the town have been decimated including the heritage listed Yarloop Workshops and Steam Museum, the old hospital, St Joseph's Catholic Church and the local hotel.
Father Wayne Bendotti, a Priest in the Diocese of Bunbury has spent the past few days at the Pinjarra Rec Centre, which has been set up as Evacuation Centre for those who have been displaced by the bushfires.
Many of the people in the centre are Yarloop residents who have experienced extraordinary trauma and have lost everything. Many are struggling to come to terms with what they have been through and the uncertain future they face.
Father Wayne was supposed to start at his new parish in Dardanup on Thursday 14th of January but has decided to delay the move by a week in order to minister to the people of Yarloop. He is using social media to ask for prayers and support from Catholics and others of good will, using photographs and other updates sent to him by Priests and other friends in the affected areas:
"...Please, please continue to pray for these victims of the vicious fire-storm which effectively destroyed their homes, their town and their community. Their futures are uncertain ... their trauma is deep ... and their needs are great.
The news-cycle will come to an end at some stage, but the peoples' journey to recovery will be a very, very long one. So please continue to pray for them..."
Amidst the stories of tragedy and suffering, the community is also witnessing inspirational stories of hope. Father Bernard Lanarolle, Parish Priest of Harvey, was able to retrieve the tabernacle from the now destroyed St Joseph's Church in Yarloop.
The Catholic community in Bunbury is calling on the Church in Australia to support them with prayer in coming days and weeks.
For those you would like to donate authorities have encouraged people wishing to contribute to do so via the official Distress Relief Fund. http://www.appealswa.org.au/currentappeal.html