Royal Commission Hearings Continue for Second Week in Melbourne
Catholic Communications, Sydney Archdiocese,
4 Dec 2015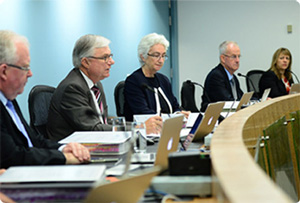 The Royal Commission into Institutional Responses to Child Sexual Abuse concluded its analysis of the Archdiocese of Melbourne today, except for the testimony of Cardinal George Pell, who will return to Australia to testify before the Commission for the third time from 16 December.
Case Study 35 for the Royal Commission focussed on the conduct and management of conduct and management of seven priests of the Archdiocese of Melbourne, who between them accounted for almost half of the recorded complaints against Catholic clergy in Melbourne.
The Commission this week heard from three Bishops, including current Archbishop of Melbourne, Archbishop Denis Hart, Bishop Peter Connors and Bishop Hilton Deakin. Bishop Connors and Bishop Deakin are both now retired, and each of them served as Vicars General and Auxiliary Bishops in the Archdiocese of Melbourne.
In addition to these Bishops, the Commission heard from survivor witnesses, members of the Victoria Police force, a school principal and a local doctor.
Next week, the Commission will turn its attention back to the Diocese of Ballarat, which it began looking at during May of this year.