Sydney Priest Reflects on What the Year of Mercy Means for the Church
Catholic Communications, Sydney Archdiocese,
21 Dec 2015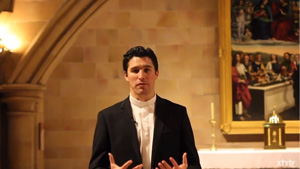 On the two-year anniversary of his election, Pope Francis announced a surprise Holy Year of Mercy.
The extraordinary Jubilee officially began with the opening of the Holy Door of St Peter's Basilica on 8 December 2015, and it will end on 20 November 2016.
The Archdiocese of Sydney opened the Holy Doors at St Mary's Cathedral on 13 December 2015 at the 10:30am Solemn Mass celebrated by Archbishop Anthony Fisher OP. Faithful of the Archdiocese are invited to visit the Cathedral and walk through the Holy Doors as part of a pilgrimage in order to receive special graces in this Jubilee Year of Mercy.
So what does this Holy Year mean for us? And how does the theme of the Year of Mercy, "Merciful like the Father" apply to our everyday lives? In this video, Archdiocese of Sydney priest Fr Daniel McCaughan, reflects on what the Year of Mercy means for the Archdiocese of Sydney, and for the Catholic Church.
"God wants to love us back to Him... Never be afraid to ask God for His mercy and His pardon because you will get it! This is a real call for the world today, and it will be a powerful tool in getting people to rediscover God," Fr Dan explains.
For more on the Holy Year of Mercy in the Archdiocese of Sydney, visit: http://sydneycatholic.org/mission/jubilee_year_of_mercy.shtml