Interfaith Remembrance Service Offers Comfort and Hope this Christmas
Catholic Communications, Sydney Archdiocese,
18 Dec 2015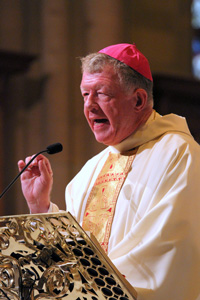 For anyone who has lost a loved one, Christmas can be a difficult and emotional time. To offer comfort to the bereaved and to commemorate and pay tribute to the lives of those they have lost, a special interfaith Christmas Remembrance Service will be held at St Mary's Cathedral at 7.30pm on Sunday, 20 December.
Led by Bishop Terence Brady and open to people of all faiths or no faith at all, the Remembrance Service offers families and individuals the chance to be warmed by the memories of loved ones who have died, and to reflect and pray for them.
An initiative of Catholic Cemeteries and Crematoria, this will be the second time such a service has taken place at St Mary's Cathedral for Christmas, with the inaugural service drawing over 800 families and friends last year.
"Christmas is a challenging time and the Remembrance Service will give people an opportunity to acknowledge the continuing bond with loved ones who have died," says Patricia Thomas, Bereavement Consultant with Catholic Cemeteries and Crematoria.
She encourages not only those who lost a much loved parent, child, sibling or life partner over the past 12 months to participate in the Remembrance Service, but all those who wish to remember and pay tribute to those they continue to miss and grieve for five, 10, 20 or even 30 years later.
"We welcome people from all cultures, traditions, religions and faiths, to this night of remembering those whom we love and will not forget. Life is about relationships. Death does not end our stories. Death does not end our relationships. We come to name and to remember them," Patricia says, adding that while there is no time limit on grief and for those we deeply loved, often overwhelming grief we experience in the first year or so, changes and the memories of the person we loved warm us and allow us to understand that the bond with those we love continues after death.
The Remembrance Service this year places a particular importance in reaching out to the disenfranchised griever, including those who are bereaved due to losing a loved one to suicide, pregnancy or infant loss, families who have lost someone due to violence, as well as the poor and marginalised in our community.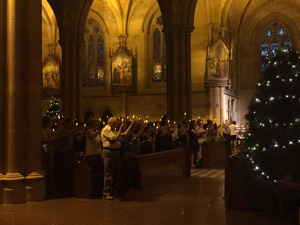 A prayer and candle lighting ceremony will also take place, which will invite those grieving to light a candle in honour of those who have lost, The following words of reflection to be shared during the ceremony:
"We are here to remember those who have died. A parent, a child, a miscarried baby, a still born child, an infant, a young person, an aged person, those who have died of suicide, by their own hand, through misadventure, violence, tragedy. A brother, sister, cousin, aunty, uncle, nephew, niece, grandparent, husband, wife, partner, friend, class mate, work colleague, neighbour and those we don't know."
The service will feature beautiful singing by Artes Christi, an arts association based in Sydney with a specific focus on expressing faith through the arts.
It will end with a blessing by Bishop Brady, which will follow the invocation below:
"May we find serenity and tranquillity in a world that may not always care. May the pain of grief we have known and the chaos and turmoil we may have experienced, give us strength to walk through life facing each new situation with courage and hope. May we always know that there are compassionate companions whose love and understanding will always be there, even when we feel most alone. May a kind word, a reassuring touch and a warm smile be ours every day of our lives and may we give these gifts as well as receive them. May we grow deeper love from our brokenness and be able to see light in our darkness. May we piece our lives together and find meaning in our new life, a life of new spirit. May we remember our loved ones, always mentioning their names, embracing and shining light on them forever. Amen"
Bereavement support will be available on the night for those who attend.
After the service, attendees are invited to move outside to watch the stunning laser and light Lights of Christmas show on the face of St Mary's Cathedral,, and visit the Catholic Cemeteries marquee in the Cathedral forecourt which will be collecting donations for the Matthew Talbot Hostel, Brown Nurses Ministry and Postvention Australia to help shine a little light on others this Christmas.
The 2015 Interfaith Christmas Remembrance Service will take place from 7:30pm on 20 December at St Mary's Cathedral. All are welcome.