St Mary's Cathedral Filled to Capacity as Archbishop Celebrates University of Notre Dame Graduation Mass
Catholic Communications, Sydney Archdiocese,
16 Dec 2015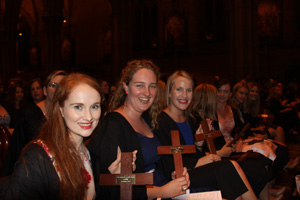 St Mary's Cathedral was filled to overflowing when more than 2500 people gathered for the annual Graduation Mass on Tuesday night for graduates of The University of Notre Dame Australia.
Benefactors, donors, academic and departmental staff, friends, family and other members of the Notre Dame community joined to celebrate the achievements of the 500 graduates in attendance, who were presented with their graduation crosses - a traditional icon of the University and a commemorative symbol of a student's time at Notre Dame.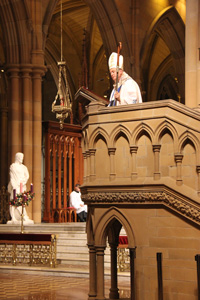 The celebrations continued with two Graduation Ceremonies in St Benedict's Church on Wednesday 16 December where more than 190 Notre Dame graduates were called to display mercy, large heartedness, generosity and faith as they farewelled the Sydney Campus and commenced their journey as instruments of change in their communities.
The highest achieving graduates delivered the Farewell Addresses at each of the two ceremonies - Joel Maamary (Bachelor of Medicine/Bachelor of Surgery (Honours)) and Samantha Manson (Bachelor of Communications & Media).
It was also a momentous occasion for three graduates who were conferred higher degrees by research - Janine Brown (Master of Philosophy), Lisa Buxton (Master of Philosophy), and Dr Natarajan Arunachalamr (Doctor of Business Administration).
During his Homily, the Most Rev Anthony Fisher OP, Archbishop of Sydney, congratulated the graduates on their hard work and achievements and reminded them of the power and strength of the Virgin Mary after whom the University is named. Archbishop Fisher said the 'power' of Mary was not political, military, financial or fashionable: rather it was her power to inspire, enlighten, encourage.
"This university is named for her because Christians have called her 'Our Lady Seat of Wisdom': the woman in whom God found pure docility to His reason, pure receptivity to His will; the woman who pondered the big questions and her own experience of God, the universe and ourselves; the woman who reflected upon what was revealed to her by God, what she received from her fellows, and what she figured out for herself," he said.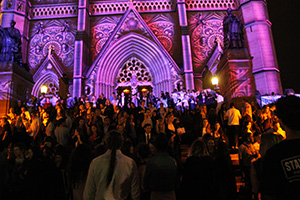 "Then she shared that wisdom with others such as her cousin Elizabeth. And she lived it, with integrity. In that woman was found the union of faith and reason at the heart not just of Philosophy and Theology but of all the disciplines of a university. It makes sense to have a university for Notre Dame because her influence has spread far and wide precisely through the example of her fidelity to Wisdom received, pointing always to Christ who is Wisdom Himself and making herself His throne."
The University will have held a total of eight Graduation Ceremonies and farewelled more than 1200 students nationally before the end of 2015 - four in December and one in July on the Fremantle Campus; one in Broome; and two ceremonies in Sydney. Hundreds more from the Sydney Campus will celebrate their graduation at the Sydney Town Hall in April 2016.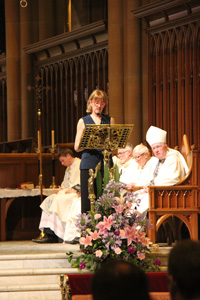 "We believe that the best education we can provide any person is one which encompasses specialised expertise, with the capacity to reflect on broader perspectives, including the ethical and social dimensions of their work, research, decision-making and promoting the common good," Professor Celia Hammond, Notre Dame's Vice Chancellor, said in her address to graduates.
"We hope and pray that as you go out today confident in your unique gifts and talents, but with an awareness of your own fragility and humanity and with a deeper understanding of your interconnectedness with all human people, that you let God's mercy into your heart and let it shine through in your words and actions.
"Our hopes and prayers are that you will embrace life, truly live, truly love, laugh often, and above all, let God's light shine through you."
Upon leaving the Cathedral many students took the opportunity to gather for photographs on the Cathedral steps while the Lights of Christmas spectacle played out behind them on the sandstone façade.