University of Notre Dame Australia wins major Federal Government Award
Catholic Communications, Sydney Archdiocese,
11 Dec 2015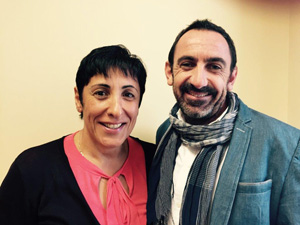 The University of Notre Dame Australia's Kenya Immersion Project, has been recognised as one of the nation's most outstanding university programs contributing to the quality of student learning and experience.
Senior Lecturers Tim Perkins and Julie Maakrun who are responsible for the Kenya project, were congratulated by the Minister for Education and Training, Senator Simon Birmingham for "setting a benchmark for similar programs".
Mr Perkins, accepted the Award for Programs that Enhance Learning is Increasing Global Mindedness through International Service in Canberra this week. The award, part of the prestigious 2015 Australian Awards for University Teaching, recognises student experiences and services supporting learning, development and growth in higher education.
The project has seen more than 150 Notre Dame students and staff travel to Kenya since 2010 to connect with people living in an Internally Displaced Peoples camp. The University continues to support a generation of students who will lead their community out of a life of poverty. The University has partnered with Cassandra Treadwell, CEO of So They Can, to deliver the programs.
"The award winners play a vital role in shaping Australia's future through their life-changing impact on the students they teach and inspire through their commitment to excellence and innovation," Senator Birmingham said.
"The Project team is recognised as one of Australia's most outstanding university programs contributing to the quality of student learning and student experience in higher education."
Mr Perkins said the project increased the global awareness of students in a very significant way and acted as a catalyst for change for both the Kenyan community and students. "Through exposing our students to situations that they are very unfamiliar with, it allows them to really open their eyes to the different experiences that people have," he said.
He explained the students developed a recognition of their ability to make change and a desire to do so.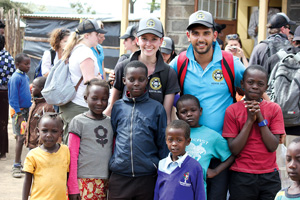 "There is an obvious increase in their tolerance, empathy and awareness of global political issues" he said.
"It really allows these students to become more socially engaged and aware of the lives of others who have had a significantly different experience of life."

Alice Race, a former Notre Dame student who attended the 2012 Kenya trip as an undergraduate Arts & Science student said it was "a life changing, transformational experience".
"It motivated me to continue studying, to do my Masters in Cultural Studies. You gain an understanding and awareness of what a privileged position it is to have the ability and freedom to study."
Mr Perkins said students returned from Kenya with increased confidence, greater leadership abilities and were more engaged with their studies then was previously the case. "Students develop a real awareness of the value and importance of education and in Kenya education is the only way out of poverty. The students realise they have agency and that there is a responsibility to share this experience."
Professor Marguerite Maher, Dean of the School of Education, University of Notre Dame Sydney, said the award that Tim and Julie received bore testimony to the quality of learning and teaching in the School of Education. "They, as leaders of the Kenya Initiative, are worthy recipients of this award," she said.