Cardinal Pell Not to Travel from Rome to Melbourne for Royal Commission Due to Ill Health
Catholic Communications, Sydney Archdiocese,
11 Dec 2015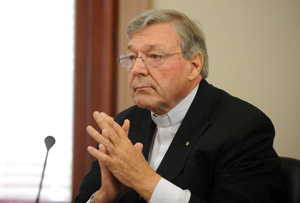 Cardinal George Pell's appearance at the child sex abuse royal commission has been delayed due to ill health.
The Cardinal was to provide evidence regarding two case studies at the commission's hearings in Melbourne next week.
However this afternoon (Friday 11 December) the Cardinal's counsel applied for the evidence to be heard via video link due to ill health.
Medical documents were supplied to the commission.
Mr Allan Myers QC told the commission that Cardinal Pell deeply regrets this decision and he had been preparing for the journey for some time.
On medical advice he had been told he should not undertake long haul flights
He said the Cardinal did not want to delay hearing of evidence and offered to appear via video.
However Commission Chair, Justice Peter McCllelan refused the application.
In reading his decision Justice McCllelan said that given the complexity of the issues involved and the fact there are two case studies presently before the commission plus the technical difficulties of the previous video evidence when the Cardinal was in Rome "it is preferable that his evidence be given in person in Australia".
He deferred Cardinal Pell's evidence until next February, when it planned a third hearing in relation to Ballarat "in the hope that the Cardinal's health will improve".
Cardinal Pell's office issued a statement following the hearing. It said the Cardinal reluctantly and only on medical advice applied to give evidence via video link as he had been advised by doctors not to fly long distance.
The Cardinal has suffered from a heart condition for a number of years but more recently increased blood pressure.
He has also this week cancelled engagements in Florida in the United States in January.
For the full statement please click here.