Royal Commission returns its focus to the Diocese of Ballarat
Catholic Communications, Sydney Archdiocese,
11 Dec 2015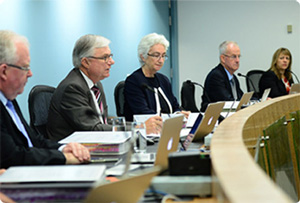 The Royal Commission into Institutional Responses to Child Sexual Abuse this week began phase two of its hearings into the Diocese of Ballarat. Phase one of the Ballarat hearings occurred in May of this year, and a third set of hearings is scheduled for February 2016.
In her opening statement for this phase of the hearings, Senior Counsel assisting the Royal Commission Gail Furness SC told the Commission that the primary purpose of this hearing was concerned with the knowledge of the Bishop and Priests of the Diocese of Ballarat in relation to allegations of child sexual abuse, and the response of the Diocese to those allegations.
As part of this, the Commission will hear from current and former Priests for the Diocese of Ballarat, including all living Vicars General and Secretaries to Bishop Ronald Mulkearns .
In addition to these witnesses, the Commission heard from a number of survivor witnesses, two of whom had been recalled for cross-examination. It also heard from former members of Victoria Police who testified about the Police investigation of abuse allegations against clergy.
The summaries for each day's proceedings can be found below.
Daily Summary for Day One (Ballarat)
Daily Summary for Day Two (Ballarat)
Daily Summary for Day Three (Ballarat)
Daily Summary for Day Four (Ballarat)