Changing the World One Heart at a Time
Catholic Communications, Sydney Archdiocese,
3 Dec 2014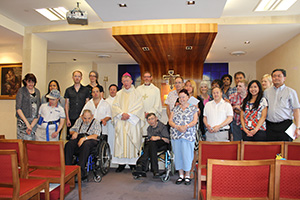 Sister Kathy Burke's dream is to see people with disabilities part of mainstream communities and involved in all levels of life and particularly in the life of the Church.
"I do think the Church has a really special role to play," she insists, explaining that as Catholics we absorb the Gospel into our lives and live by Christ's teachings.
"The Gospel calls on us to recognise that weakness is strength and that those with disabilities have been given a special gift by God. And we need them to teach us that," she says.
For more than 20 years, Sr Kathy has been involved with L'Arche Australia's faith communities where men and women with and without an intellectual disability share their lives in the spirit of friendship and equality, supporting and assisting one another and celebrating the gift of difference.
Today, 3 December, to mark the International Day of People with Disability, L'Arche Australia has joined forces with the Archdiocese of Sydney's Peace and Justice Office, organising a Holy Mass celebrated by Bishop Terry Brady, the Australian Bishops Delegate on Disability Issues in the Chapel at the Archdiocese's Polding Centre offices in Sydney's CBD.
This was followed by lunch and an inspirational talk by Sr Kathy who spoke about how all our lives are enriched by those with a disability or disabilities, and how L'Arche and its 146 faith communities worldwide is "changing the world one heart at a time."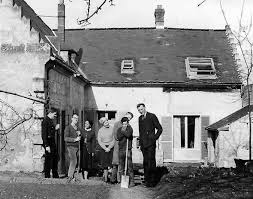 Founded in 1964 by French-Canadian philosopher, theologian and humanitarian, Jean Vanier L'Arche is now an international federation of 146 faith communities spread across 35 countries, including Australia.
To mark this important anniversary, L'Arche Sydney has initiated a Fellowship Program to train more Australians for its programs and communities. Those awarded Fellowships will receive formation, training, gain an understanding of the needs of people with a disability, appreciate the significance of transforming relationships and discover the importance of relationship and mutuality while living together with people with an intellectual disability in a faith based environment.
The Fellowship also includes accommodation, meals, return air fares to experience a L'Arche community overseas and the opportunity to obtain a Certificate III in Disabilities training.
Perhaps the most common intellectual disability for those living in L'Arche integrated communities is Down Syndrome but there are others with Fragile X Syndrome or other causes.
"Those of us without an intellectual disability are inclined hold back in the initial stages of relationships. We are also inclined to hold grudges if someone offends us or does something we find hurtful," Sr Kathy says. "But with those who have an intellectual ability there is no such holding back. They enter into relationships whole heartedly, don't bear grudges or brood over petty hurts and really live life as a celebration."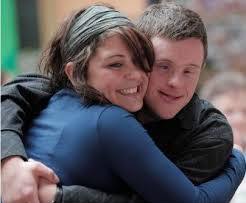 They can teach all of us a great deal about having an open heart, being non judgemental and finding joy in each and every day, she says.
The first L'Arche community began in the small French village of Trosly-Breuil, north of Paris in 1964.
Jean Vanier was living in the village at the time and through his friendship with Dominican priest, Father Thomas Phillippe, became aware of the plight of thousands of people living in institutions because of their intellectual and development disabilities.
In their early 60s this institutionalising the intellectually disabled, often from birth, was common not only in France but Australia as well.
Determined to do something about this, Jean Vanier bought a small house in the village and invited two men with intellectual disabilities to live with him rather than in one of the large nearby institution. By living with these two men and sharing their lives, Jean Vanier firmly believed he had discovered a way of the heart and a new way of living the beatitudes of Jesus.
From these early beginnings, L'Arche communities began to expand not only across Europe but in Canada, the USA and in 1978, Australia's first L'Arche community was founded in Canberra and five years later, in Sydney.
Growing from a handful of people who built friendships with men and women with an intellectual disability housed in an institution at Gladesville, and who organized regular picnic and other outings for them, the L'Arche community was formally established after the group was offered a large house in Burwood.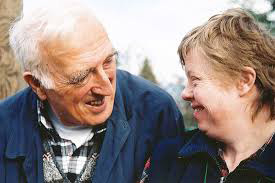 Under the direction of Father Peter Toohey, who had previously been Chaplain at the Gladesville institution, five men and women with an intellectual disability shared the house with a number of live in and live out L'Arche assistants.
Thirty years on, the Burwood household continues to be home to four "core members" of the L'Arche Sydney community, as those with an intellectual disability are known." In addition to Burwood, today L'Arche Sydney also has households in Campsie and Merrylands where a further seven core members live and were dedicated live in as well as live out assistants care for seven men and women with an intellectual disability, enabling them to lead rich full lives.
With the support, encouragement of the varying teams of L'Arche assistants those living in these integrated faith households gain in confidence, independence and self esteem and are increasingly being integrated into the wider community.
"What we continue to learn at L'Arche is that while those with a disability cannot do without us, we cannot do without them. We need them as much as they need us. Our communities are very much a partnership where we learn and support each other," says Sr Kathy.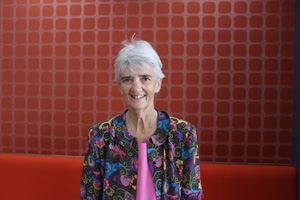 Today L'Arche has communities in Melbourne, Sydney, , Canberra and Hobart, together with Friends of L'Arche communities in Perth and the Hunter Valley.
This week Sr Kathy was in the Hunter to launch "My Home in L'Arche," which tells stories from the L'Arche communities in Australia and includes a forward by Jean Vanier.
"The book is a series of personal stories told by some of our core members, assistants as well as families of those in our communities," says Sr Kathy.
To find out more about the L'Arche Sydney Fellowship log on to http://www.larche.org.au/larche-australia-fellowship-sydney/
For information about L'Arche communities across Australia as well as worldwide log on to: http://www.larche.org.au/
To obtain a copy of the book, My Home in L'Arche email hunter@larche.org.au