Family Celebrates 10-year-old Jessica's Joy and Laughter
Catholic Communications, Sydney Archdiocese,
2 Dec 2014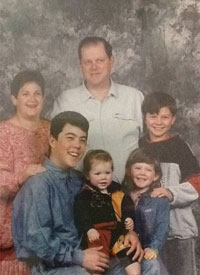 When the 36 members of Rhonda and Graham Northey's large extended family sit down for their traditional Christmas dinner, 10-year-old Gemma* will enjoy all the fun and excitement even though she will have to bypass the lavish spread of hams, cold roasts, salads and ice cream treats.
Gemma was born with mitochondrial disease. This means she cannot eat food like the rest of us and must receive all nutrients and hydration through a feeding tube.
Gemma's ability to walk and talk are also compromised.
But this debilitating genetic disease that affects one in 5000 of the population does not stop this brave little girl from embracing life, and bringing joy to her foster family.
As the world prepares to mark International Day of People with Disability on Wednesday, 3 December, Rhonda and Graham Northey speak of the great happiness Gemma has brought, and continues to bring, to their family
"Blessed with four children, two of whom are adopted and two of whom are our own, Graham and I had talked about becoming foster parents. But we were also caring for our parents as they aged, and increasingly needed our help. So it wasn't until our parents died and we only had two of the kids still at home, that we decided to investigate this further," Rhonda explains.
Experienced parents, with a big house and big hearts, Graham and Rhonda came across a CatholicCare ad in their local paper.
"CatholicCare was looking for foster families. By then we'd already talked to friends and looked into other foster agencies. But none of them seemed to give as much support or training as CatholicCare," Graham says.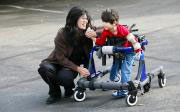 CatholicCare has more than 80 foster families across Sydney providing emergency, temporary, mid term and permanent care to children in need. The agency also has a small group of dedicated families in Sydney who offer permanent foster care for children with a disability or disabilities.
Named Melanie's Program, the initiative dates back to 1989 and was established by CatholicCare as a long term foster care program for children with moderate to severe physical and intellectual disabilities. Placed with families as babies or from age one until age 12, children remain with their foster families until the age of 18 and throughout this time they and their families are given emotional, practical and tailored support and ongoing training and help to overcome issues as they arise.
Rhonda admits that initially she and Graham hadn't considered fostering a child with a disability but after undergoing a series of training courses with CatholicCare, they decided they had both the time and patience needed and put up their hands.
"Gemma was five years old when she came to us and had been in and out of hospital. In those early days, she would vomited non stop for three days and as well as losing nutrients, she would become severely dehydrated. She would also start pulling her hair out just before she vomited," Rhonda says.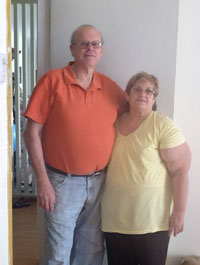 A consultation with a neurologist helped solve her habit of pulling out her hair, but while a change to a hypoallergenic formula to feed her via the tube in her stomach helped, the problem was not completely eradicated and five years on, Gemma still suffers severe bouts of vomiting. She takes three weeks to recover from these bouts and as a result misses quite a bit of school.
"She goes to a special school which has five or six teachers that give individual attention to each of the children. She loves her time there and being with others in her own age group," Graham says.
Over the past five years, Gemma has continued to surprise Rhonda and Graham with her courage and determination.
"She has a very happy cheeky personality and when we are at church if someone ignores her or forgets to say goodbye to her, she will tap them on the back to get their attention so they talk to her," he says.
He and Rhonda are also enormously proud at the strides Gemma recently.
Told she was unlikely to ever be able to walk or talk, Gemma startled Rhonda when the two were doing the weekly shop at the local supermarket.
"I'd ducked into another aisle and was momentarily out of sight. That's when I heard Gemma call out "Mumma" for the first time," Rhonda says.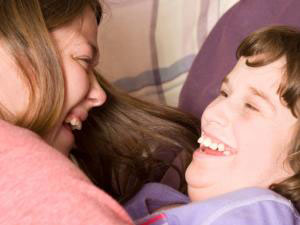 These days she also says "Dada" especially when she is on the floor out of her wheelchair and Graham plays with her and tickles her.
Gemma has also confounded predictions about her ability to walk and in the past few months has taken several steps using a walking frame.
"The effort she makes is extraordinary and we are all filled with joy at every milestone she achieves," Rhonda says.
When Gemma joined the Northey family five years ago, youngest son Aidan, who was the only one of his sibling still living at home, wanted to be reassured her arrival wouldn't change things.
"But within a short time he absolutely fell in love with her and bought her a birthday present of triangles that makes a lot of noise and it is still her favourite toy," says Rhonda adding that whenever Aidan enters the room "her whole face lights up."
"The moment he walks in the door she stops whatever she is doing until he comes over and says hello."
Gemma is also adored by the Northey's other children as well as their seven grandchildren who range in age from a few months to 10 years of age.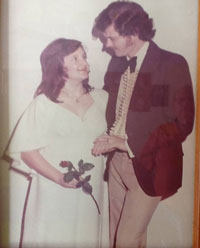 "One of the grandchildren made bath salts at school and made an extra jar of bath salts for Gemma. They also do special paintings for her and involve her in their games," Rhonda says.
In the time Gemma has been with the family, she has been in hospital eight times and endured two major operations. Throughout each period the little girl has been in hospital, Rhonda or a member of the family has been at her bedside night and day.
"She is our child," Rhonda says.
In every way Gemma is a much loved part of the Northey family.
"She has brought unbelievable joy to all our lives," Rhonda says. "Thanks to Gemma, I have also become more patient, more compassionate and have learned not to judge a person by their disability but instead by the person they are themselves."
*Gemma's name has been changed to protect her privacy.
To find out more about CatholicCare's Melanie's Program and the longterm foster care of a child with moderate to severe intellectual or physical disability log on to CatholicCare at http://www.catholiccare.org/children-youth/children/children-disabilities/melanies-program