Determination & Courage Helps Salina to All-round Success
Catholic Communications, Sydney Archdiocese,
17 Dec 2014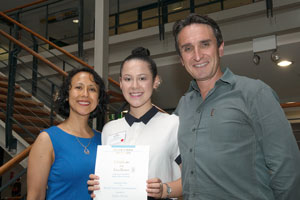 Salina Alvaro from St Patrick's College Sutherland is one of only 105 students from schools across NSW to top her course in this year's HSC exams. Finishing first in the Retail Services HSC exams, she joined the state's other outstanding achievers at yesterday's First in Course Awards ceremony held at Technology Park.
As always, HSC students at NSW Catholic schools performed well with 20 among the First in Course Award winners which were presented by NSW Minister for Education, Adrian Piccoli.
But few had to contend with shock and grief just one hour before the start of her HSC trial paper. Yet this was what happened to Salina when shortly before she entered the exam came news that her class mate, close friend and study partner, Lachlan Johnson had died after suffering a severe asthma attack.
"I made a resolve to complete the exam for Lachlan," she says and although admitting while she was "happy" to get the call telling from the Board of Studies telling her she had come first in the State, Salina makes it clear that Lachlan was the one who inspired her.
His support and encouragement as her study partner and her own determination to honour his memory is what got her through, she insists.
"I was also fortunate to have a teacher who had all this faith in me."
More than 76,000 students sat the HSC this year, the largest number on record. Of this number 18,315 students from NSW Catholic independent and systemic schools sat for the full HSC representing approximately 24% of this year's cohort.
HSC results were released online by the Board of Studies this morning which can be accessed by students via a pin number. However it is tomorrow that has most students biting their nails for this is when they will receive the all important and much anticipated ATAR scores by text.
But for the State's 105 top performing students news of their success came early enabling them to attend yesterday's ceremony where they were presented with First in Course Awards by the Minister in recognition of their achievements.
It was also a chance to celebrate.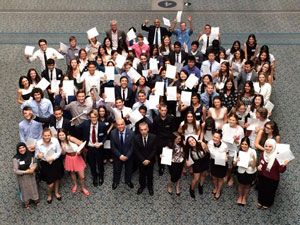 Catholic schools were well represented among the high achievers and among those presented with First in Course Awards were students from Catholic independent schools and included St Pius X College Chatswood, Stella Maris College Manly, Gilroy Catholic College, Castle Hill, Our Lady of Mercy College Parramatta, Kincoppal Rose Bay, St Ignatius' College, Lane Cove as well as Catholic independent schools in Lismore, Wollongong and Goulburn.
Salina, however was the only student from Sydney's systemic Catholic schools to win a First in Course Award.
Accompanied by her proud parents, Roselle Pera and stepdad, Joe Pera at yesterday's ceremony, Salina has been a constant super-achiever during the past year and was not only named Southern Region Vocational Student of the Year but was a major award winner at St Patrick's College.
At the College's recent prize giving, Salina took out the school's Oratory Award, the College Leadership Award, the John Worboys Memorial Award for Religious Education and the highest honour of all, the St Patrick's Medal.
Now she can add First in Course to her impressive achievements.
"Salina is a go-getter and excels in everything she does because she puts in a 100 percent effort, says mother Roselle.
The HSC's Retail Services exam is a rigorous paper, says Salina's teacher Nicola Marshall, requiring her to relate her experiences of the retail environment in a range of different contests.
"Salina spent many hours in preparation for the examination and her achievements in the HSC and many other areas are a credit to her hard work, tenacity and determination," she says.
At yesterday's First in Course ceremony, Minister Piccoli told the 105 young people that to have come first from the 76,000-plus who sat the examination is an incredible achievement.
"The HSC is a qualification that will be a pathway to further study for many students. But it is important to remember that it is just one way of getting into the university course or career you want," he said.
This year for the first time students will be able to obtain their HSC Record of Achievement as a PDF file on 7 January. This will be followed by hard copies on 14 January.