Nicholas Tonti-Filippini Remembered for His Faith, Courage, Scholarship and Unquenchable Zest for Life
Catholic Communications, Sydney Archdiocese,
7 Nov 2014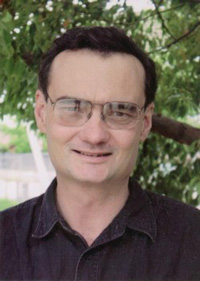 Dr Nicholas Tonti-Filippini, Australia's first hospital ethicist, prolific author, internationally acclaimed bio-ethicist and Associate Dean of the John Paul II Institute for Marriage and Family died this morning in Melbourne after a long and constant battle with ill health.
He was 58 and is survived by his wife, Mary and the couple's four children, Claire, Lucianne, Justin and John.
Today Catholics, academics, medical personnel, students and the faculty at Melbourne's John Paul II Institute are in mourning, along with the many others whose lives he touched and inspired.
Following the sad news of his friend's passing Archbishop Anthony Fisher OP said; "As someone involved in founding the John Paul II Institute for Marriage and the Family I am deeply grateful for the tireless work Nick did as a Professor and Associate Dean at the Institute. He was genuinely loved and revered by the Institute's staff and students. They appreciated Nick's sharp intellect and extraordinary capacity for hard work, his courtesy and availability. His generosity was all the more astonishing given chronic pain and a condition which required regular hospitalisation, surgery and dialysis. Remarkably, even when exhausted by all that and in the midst of controversy, even vilification, sometimes by people who should be his friends, he remained courteous, humorous and focused on the ball rather than the player, on building the civilisation of life and love. His ability to maintain good humour and respect in the midst of such challenges always inspired me. "
"I think that those of us who were privileged to be close to him thought he was completely sui generis - a kind of force of nature," Dr Tracey Rowland, Dean of the John Paul II Institute says adding that despite his ongoing long struggle with terminal illness, Dr Tonti-Filippini was teaching students and organising classes until mid October.
"He never complained about the fact he was in constant pain. Over the years he would be go into hospital for some major medical procedure and then would turn up at work two days later," she says and believes that perhaps it was because he suffered so much, that he was so spiritually deep.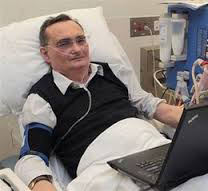 "Everything he did was motivated by faith," she says. "He loved the Church and defended its teachings but he was never a Captain Catholic type. There was nothing remotely nerdy about him. He simply had a very high level of intelligence and firmly believed in the truth of the Church's teachings. He was a Knight of St Gregory and a Knight of Malta and I think if there are two adjectives that sum him up they are intelligent and 'chivalrous".
Professor Rowland says that while she will miss both these wonderful attributes of his character, she will especially miss "the chivalry."
"He had a personality type that was utterly aristocratic," she says adding that his playfulness, love of teasing and his mischievous sense of humour will also be greatly missed.
Despite his on-going battles with his health and despite the physical sufering, Dr Tonti Filippini was always the person staff and students would go to with a problem, she says.
"Even when he was unable to actually solve the problem, we would leave feeling we had the courage to deal with whatever it was," she says and recalls how often he would say something so mischievous and hilarious that just remembering that line was enough to provide the necessary emotional strength to get through a difficult patch.
The sixth of 10 children of devout Catholics, Count Michelangelo and Countess Coralie Tonti-Filippini, he was born in July 1956 and grew up in Bendigo where his mother was a teacher and his father an engineer.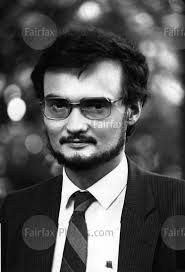 His ambition on leaving school was to become a forensic scientist but after his first year of study at Monash University he was given a medical diagnosis that would change is life.
Aged just 21, he tested positive to rheumatoid auto-immune disease. This meant crippling pain and constant flare-ups when even standing let alone walking was agonising . Rheumatoid arthritis not only affects joints inflaming and twisting them out of shape, but affects tissue throughout the body. Rather than protecting the body from infection and disease, the immune system's white blood cells instead run amok and begin destroying the body's tissue.
For the young 21 year old, the diagnosis must have been devastating, particularly when doctors told him that the disease would eventually lead to kidney and organ failure and that he had just five years to live.
With typical optimism and an unquenchable zest for life, he refused to be defined by his disease and did his best to continue with a normal life not only umpiring the Monash footy team but playing cricket for the university.
The progression of the disease became more severe and not only was Dr Tonti-Filippini forced to give up sport, he was forced to rethink plans for his future career.
Deciding to study sociology and philosophy, he had entered the masters program when he was approached by the Director of Community Medicine at Melbourne's St Vincent's Hospital to establish a bioethics centre which would be the first of its kind in Australia.
Now 27 years old, he had survived longer than his doctors had predicted and became the nation's first hospital ethicist. A short time later he was approached to lecture in bioethics by Dr John Billings, the then Dean of the Undergraduate Medical School at the University of Melbourne.
This soon became a full-time job. A philosopher specialising in Bioethics, he completed his Ph.D at the University of Melbourne. A prolific author of papers and books on bioethics, he achieved worldwide renown particular with his comprehensive series of six volumes on bioethics dealing with issues ranging from human organ and tissue donations and the increasing rise of commercial biobanks to IVF and modern technology and motherhood to the care of the sick and dying.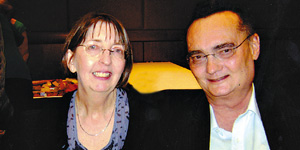 Written and published over the past five years, the books also deal with issues such as torture, experimentation on humans, capital punishment, gender reassignment, stem cell research, same -x marriage, homosexuality and the challenges in contemporary culture and science for women and men who wish to love responsibly and well.
Archbishop-elect Anthony Fisher OP described his friend and colleague's writings as bringing together a lifetime of intellectually rigorous and faithfully Catholic work in Bioethics. He called them a "must read for any health professional, ethics student or educated layman interested in exploring questions and emerging from the labyrinth wiser and more compassionate."
Despite his grim medical diagnosis and suffering unremitting and severe pain for more than 37 years, Dr Tonti-Filippini did not believe in euthanasia and when South Australia's Voluntary Euthanasia Bill 2010 was to be debated in SA Parliament, he voiced his opposition in a powerful submission to the (then) Premier Mike Rann.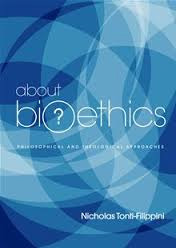 Writing as an ordinary citizen rather than in his role as a professor or as a member of the many committees and advisory boards to which he belonged, Dr Tonti-Filippini explained that what happened in South Australia would affect all Australians, "particularly those who like me meet the requirements of the Biill."
Briefly he said he was currently dealing with his own terminal illness which he described as "a combination of renal failure, advanced Ischaemic heart disease and rheumatoid auto-immune disease," explaining that he was dependant on haemodialysis and palliative care. He also mentioned that he had undergone 15 angioplasty procedures to place eight stents in a bid to recovdr some of the blood flow after the failure of coronary by pass surgery.
Rheumatoid disease also caused chronic pleuropericarditis, he wrote, adding "I mention this only to establish I am no stranger to suffering and disability and am well aware of the limitations of palliative care," and admitted that not only was it particularly difficult to control chronic pain but that he had reached the limits of what palliative care could offer.
He then documented his experiences with the terminally ill during his years as a hospital ethicist and Head of Bioethics at St Vincent's Hospital in Melbourne together with his time as Chair of National Health and Medical Research Council Working Committee to prepare guidelines for the care of people in an unresponsive or minimally responsive state.
Then he began his argument on why euthanasia is no solution.
"Seriously ill people do not need euthanasia. We need better provision of palliative care services aimed at managing symptoms and maximising function, especially as we approach death," he wrote. "Rather than help to die, the cause of dignity would be greatly helped if more was done to help people live more fully with the dying process."
In what is a moving and remarkable submission that should be read by all politicians before any vote now and into the future is taken on Assisted Suicide and Voluntary Euthanasia, Dr Tonti-Filippini with typical academic scholarship, clarity and rigour, spelt out the ethical and legal reasons against assisted suicide, taking issue in particular with the fact that the Bill - as with other similar Bill advocating euthanasia - was based on the notion of unbearable pain.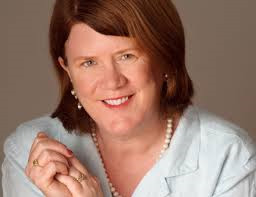 "People cope with illness and pain in different ways," he said in an interview with the Archdiocese of Melbourne last month. "Some people can meditate. I can't. I have never been able to. For me it is just getting involved in my work."
Dr Nicholas Tonti Filippini's contribution to the Church's intellectual tradition will be long remembered and celebrated. As will his courage and his joy in every moment of his all too short life.
"I imagine that in the future there will be at least one Professor Tonti-Filippini Chair of Bioethics somewhere in the world. Everything he did was motivated by his faith and I expect he has received a hero's welcome in eternity," Professor Tracey Rowland says.
For Archbishop Fisher's full tribute, go to http://www.sydneycatholic.org/files/NTF tribute - Archbishop Fisher.doc