Storm Fails to Dampen Spirits at Faith in Action Expo
Catholic Communications, Sydney Archdiocese,
6 Nov 2014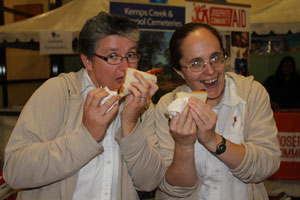 Ominous black clouds, gusts of more than 50 kph followed by lightning, thunder and Weather Bureau warnings of hail failed to dampen spirits of stall holders and attendees at yesterday's Faith in Action: Social Justice Expo.
"The storm hit around 4 pm just as we were about to open the Expo. But instead of people leaving, or stall holders having to pack up, we simply moved under cover into an adjacent hall and continued the Expo there," says Quayne Ybe Guevara, Research and Project Officer with the Archdiocese of Sydney's Justice and Peace Office.
For the next hour the storm lashed the courtyard at the Broadway campus of the University of Notre Dame but remarkably the city's fierce albeit brief storm did nothing to deter the hundreds who had gathered for the Expo, which was the highlight and most anticipated event of the Archdiocese of Sydney's three-day Faith in Action 2014.
"Some of the stall holders even remained where they were when the storm broke as they were undercover on the courtyard periphery," says Quayne.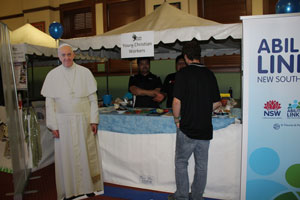 Bishop Peter A. Comensoli, Apostolic Administrator of the Archdiocese of Sydney officially opened yesterday's Faith in Action: Social Justice Expo and welcomed attendees as well as the many representatives from social organisations and agencies across the city.
Among those hosting stalls were representatives from Catholic Youth Services, the House of Welcome which cares for asylum seekers, Sisters from the Congregation of the Missionaries of God's Love, Vinnies Youth, Palms Australia, Catholic Earthcare, Caritas Australia, Josephite Community Aid, the Columban Mission Institute, This is Heaven, Australian Catholic Religious Against Trafficking in Humans (ACRATH), Young Christian Workers, Augustinian Volunteers Australia, Sisters of the Missionaries of God's Love and members of the L'Arche Community where people with and without intellectual disabilities, live together and help one another.
The three-day Faith in Action event is an initiative of the Archdiocese of Sydney's Justice and Peace Office, and was held this week for the second year in succession.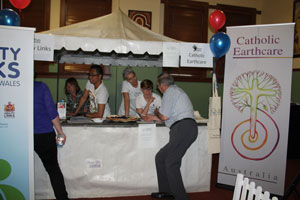 Created in response Sydney's young Catholics expressing a desire not only to celebrate their faith but to put their faith into action, and to make a positive and lasting difference to the world.
At last year's World Youth Day many of these young people were able to do just that in Peru, where on their way to Rio de Janeiro they spent three days working in the favelas or hillside slums on the outskirts of Lima, Peru, building stairways, constructing houses and visiting schools to speak with youngsters.
"One of the main aims of Faith in Action is to build an awareness among young people of the many different opportunities offered here in Sydney where they can contribute and make a real difference," says Quayne.
Pope Francis urges young people not to bury their talents, which are God's gifts, telling them they must not be afraid to "dream of Great Things."
The Holy Father's exhortation was one of inspirations for the creation of an annual Faith in Action event.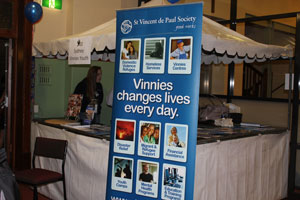 "But many young people are not sure how to express their great love for God or how to put their faith into action. God teaches us to love our neighbour, and by becoming involved with social justice issues and helping others people, we live our faith and back it up with action," Quayne says.
The three-day event began on Monday, 3 November with a midday talk by Therese Corkish, a young Community Support Officer with Catholic Earthcare who spoke of how her Catholic faith was intricately linked with the values she places on social justice and the importance of taking action for the common good.
The following day, Tuesday 4 November, Paul Longobardi, Youth and Adult Coordinator with Vinnies Youth NSW, discussed his work with St Vincent de Paul Society, the increase in youth homelessness as well as his work with the Brekky Van that provides cooked breakfasts, cereal and fruit to young people experiencing homelessness. He also spoke of the other youth programs offered by Vinnies including Buddy Days, Vinnies Kids Camps and SPARKS where volunteers tutor refugee children and help them learn English.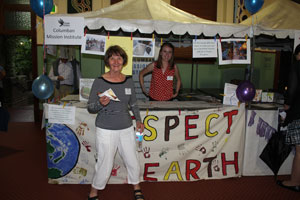 But it was yesterday's Social Expo that provided the biggest drawcard and saw hundreds of young people not only from Notre Dame but from other universities across Sydney as well as a large contingent of school leavers who have just finished their HSC exams
Along with the stalls and live music, there were also a series of talks at yesterday's gathering. One of the speakers was Ashleigh Green who works with the Columban Mission Institute's Centre for Christian-Muslim Relations. Columban priest, Fr Brian Vale also spoke of his missionary work in Japan and his current involvement in interfaith dialogue at the Mission's Centre for Christian Muslim Relations.
Faith in Action's Social Justice Expo 2014 concluded at 8.15 last night with Mass at St Benedict's Church, Broadway which was celebrated by Fr Peter Smith, the Archdiocese of Sydney's Promoter of Peace and Justice.