Iconic Walking Cane of St Teresa of Avila Headed for Australia
Catholic Communications, Sydney Archdiocese,
28 Nov 2014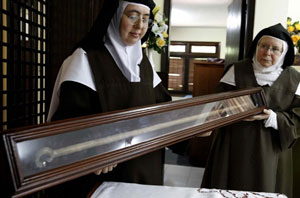 The original walking cane used by St Teresa of Avila during her journeys across 16th Century Spain is set to arrive in Sydney on 17 December as part of a global "Way of Light" pilgrimage to mark the 500th anniversary of her birth.
The founder of the Discalced Carmelites and the first woman to be named a Doctor of the Church is frequently depicted in paintings, etchings and woodcuts with her walking stick.
Encased in glass and accompanied by a Friar from Avila, a journalist and a cameraman to film the Way of Light pilgrimage, the walking can relic left Spain on 15 October, the Feast Day of St Teresa of Jesus as she is also known for South America.
So far the relic has visited Discalced Carmelite communities in Brazil, Paraguay, Argentina, Uruguay and Ecuador and will shortly head for Columbia, Mexico and the USA before arriving in Australia in just under three weeks' time.
"As Discalced Carmelites we have every reason to celebrate St Teresa. She is our founder and our inspiration, and just as she used a walking stick during her life time as she crossed Spain founding convents and monasteries, she is our spiritual walking stick and supports us on our journey," says Father Greg Burke, OCD of Sydney's Discalced Carmelite Community at Varrowville.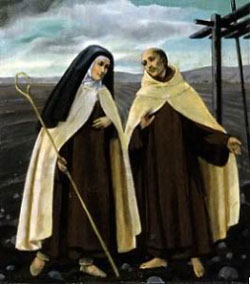 Set in rolling country and bushland of Scenic Hills, 46 kilometres south west of Sydney, the Discalced Carmelite community at Varrowville includes the Mt Carmel Priory, the adjacent Mt Carmel Retreat Centre, the Monastery of the Discalced Carmelite Sisters and Mt Carmel Catholic College.
Although the relic will only be in Australia for one full day, the community has issued an open invitation to all to join in the celebrations on Thursday, 18 December which will begin at 9 am at Mt Carmel Catholic High School. It is here Year 12 students, staff and young people will gather to walk from the school to the parish church of Our Lady of Mount Carmel, where a short meditation service and veneration of the relic will take place.
At 10.15 am accompanied by growing numbers of parishioners, friends, religious and priests, the precious relic will be carried through the fields to Varrowville's Mt Carmel Priory where a reflection service will be held at the Centre's chapel.
The Way of Light pilgrimage will then continue with a walk across the gently rolling hills and rural landscape to the monastery of the Discalced Carmelite Sisters where a Eucharistic Celebration will be held.
The Mass will be followed by veneration of the 500 year old relic of St Teresa of Avila.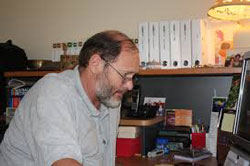 Australia's Way of Light Pilgrimage will end with a celebratory lunch at the Monastery.
By mid afternoon the relic will be transported to Kingsford Smith Airport where it will be flown to New Zealand for the next stage of its journey.
"The idea of life as a journey, as a pilgrimage, even as a 'mission' is closely linked to St Teresa's life and her memory," says Fr Greg pointing out that during her lifetime the 16th Century saint was known as the "wandering nun" and by her many of her opponents as a "restless gadabout."
With her walking cane, St Teresa travelled hundreds of kilometres in bare feet - or occasionally by covered wagon - throughout Spain founding 32 monasteries and convents, and the Discalced Carmelite Order.
On her Feast Day last month, Pope Francis called her "a woman of immense spirituality" and cited four of her particular gifts as "joy, prayer, fellowship and being in touch with the realities of her own time."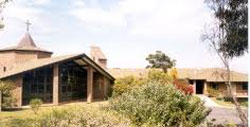 The Holy Father said St Teresa's mystical experience in mid-life did not separate her from the world or from the concerns of people. On the contrary, he said, it gave her new impetus and courage for action.
"She teaches us that the path to God is the path towards love for one another," he said.
In 1535, 20-year-old Teresa of Avila, entered a Carmelite convent where she struggled with her prayer life and felt she was living in shadow rather than in God's light.
She repeatedly asked God to help her, but it was almost two decades later that she experienced the conversion that would mark the rest of her life. Coming across a statue of a wounded Christ she was suddenly and powerfully moved by what Christ had suffered for her and overwhelmed by what she believed was her own lack of gratitude for His sufferings.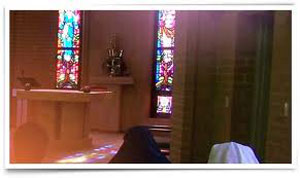 This set St Teresa on a new pathway and led her to an intimate experience with God, a God she came to perceive as a beloved Friend. In a series of visions she came to realise that God wanted her to begin reforming the Carmelite Order, founding new houses with a renewed spirit of detachment, charity and obedience.
She documented her thoughts, prayers, teachings and her travels across Spain in writings that include "The Book of Life, The Way of Perfection," "The Interior Castle" and "The Way of Perfection."
"These are widely read and enable us to experience the spirit of St Teresa and her remarkable path to God," says Fr Greg adding that in many ways she was always on a journey both spiritually as well as physically.
The Way of Light Pilgrimage which celebrates St Teresa's own faith journey, her travels and her teachings, will culminate in Avila on 28 March 2015, the 500th anniversary of her birth.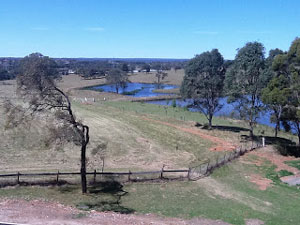 By the time her walking cane relic is finally returned to La Santa, the St Teresa Convent in Avila, the walking cane relic will have travelled 188,000 kilometres across five continents and visited Discalced Carmelite monasteries in 30 different countries.
"It is a wonderful way to symbolically start the 500th anniversary of her birth and seeks to unite people of different races and cultures, and highlight the universal spirit of St Teresa whose love and concern went out to all people, especially for those outside the Church," says Fr Greg.
To find out more about the Way of Light Pilgrimage and the Encounter with St Teresa at Varrowville on 18 December, log on to www.teresa500.org.au