Installation of the Cathedral's Outdoor Nativity Nears Completion
Catholic Communications, Sydney Archdiocese,
27 Nov 2014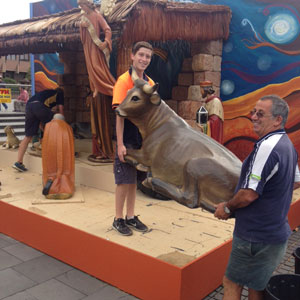 Strapped into the tray of the truck, a large ox peered at Sydney shoppers as they pulled out their smart phones to snap the life-size beast together with the shepherd accompanying the bovine and the Christ child propped up by a piece of wood.
As always when the 12 realistic handcrafted resin figures are installed in the Archdiocese of Sydney's outdoor Nativity in Cathedral Square, there are plenty of "double takes" from passers-by. And this year was no exception.
With the base, manger and backdrop of the Nativity erected, this morning trucks and trailers began ferrying the Angel Gabriel, the Virgin Mary, Joseph, the Christ child, the three kings, shepherds and assorted live stock from the Cathedral car park, where they were stored, along College Street to Cathedral Square.
Many of those who saw the procession as it moved along one of Sydney's busiest streets headed for the Square to watch the figures being carefully unloaded before being set up inside the manger.
Once complete the low wooden fence surrounding the Nativity will be erected.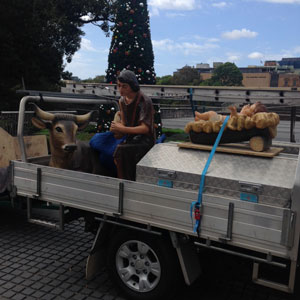 The final touch will be the state-of-the-art lighting system which the Cathedral electricians will begin installing tomorrow.
An initiative of the former Archbishop of Sydney, Cardinal George Pell, who commissioned the 12 resin figures from Italy's famed ecclesiastical art Demetz Studios, the outdoor Nativity made its debut in 2005. Although outdoor Nativities are a custom across Europe, Sydney's outdoor Nativity was Australia's first.
Displayed in Cathedral Square each year from the first Sunday in Advent, this year marks the city's outdoor Nativity's 10th anniversary in what has become a much loved and much anticipated tradition.
On Sunday, 30 November the Archbishop of Sydney, the Most Rev Anthony Fisher OP will preside at the Blessing of the Nativity which will follow St Mary's Cathedral's 10.30 am Solemn Mass.