Most Rev Peter A. Comensoli Appointed Bishop of Broken Bay
Catholic Communications, Sydney Archdiocese,
21 Nov 2014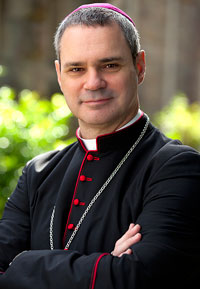 Auxiliary Bishop for the Archdiocese of Sydney, Most Rev Peter A. Comensoli DD will be the new Bishop of the Diocese of Broken Bay.
Bishop Peter said he was delighted but humbled to be asked by the Holy Father, Pope Francis, to take up this new pastoral service within the life of the Church.
Earlier this year Bishop Peter was appointed Apostolic Administrator of the Archdiocese of Sydney when Pope Francis called Cardinal Pell to Rome as Prefect of the Secretariat for the Economy. He held this role until Archbishop Anthony Fisher OP was appointed the new Archbishop of Sydney. The Diocese of Broken Bay has been vacant since the retirement of Bishop David Walker on 11 November 2013.
Bishop Peter said he was looking forward to making his home in Broken Bay Diocese, and working with all the priests, religious and people of the Diocese in proclaiming the good news of Jesus Christ.
"A diocese is like a great family united in the love of Christ, and I am keen to make my home with the good people of Broken Bay Diocese," the 50-year old Bishop said, following the announcement.
"I want to assure all the families of our Diocese - at home and in our parishes - that you are already in my daily prayers, and I unite myself to you in your joys and hopes, your griefs and anxieties."
"If I could ask one thing, may it be for your prayers for this sinner called to be your shepherd, after the heart of the Good Shepherd."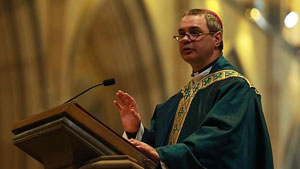 A "Wollongong boy", Bishop Peter was born in the Illawarra on 25 March 1964. After school, he worked for four years in the banking sector while studying Commerce at Wollongong University.
Ordained in 1992 for the Diocese of Wollongong, he served as Assistant Priest and then Administrator in a number of parishes of that diocese and was Chancellor for six years before being ordained Auxiliary Bishop of Sydney in June 2011.
Although Bishop Peter has undertaken extensive studies in moral theology in Australia and overseas, he also brings with him a broad range of pastoral experiences.
"Parishes are neighbourhoods of grace, not just congregations," he said. "And I am keen to work with all our priests and people in growing our neighbourhoods of grace into bright beacons of faith, hope and love."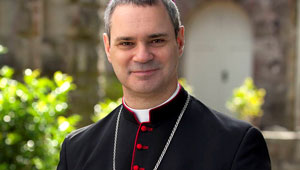 Bishop Peter's new Diocese is wide and varied, comprising approximately 225,000 Catholics (the 7th largest in Australia), with 26 parishes, 53 Catholic schools, a substantial welfare and healthcare outreach and many other agencies, movements and organisations.
"There has been so much good work already done under the wise stewardship of Bishop Walker, and before him, Bishop Murphy. At this threshold of a new era, may we come together to proclaim the evangelii gaudium, the joy of the Gospel," he said.
Bishop Peter will be installed as the third Bishop of the Diocese of Broken Bay on 12 December, the feast of Our Lady of Guadalupe, under whose loving protection he has placed his ministry.
"May Mary Star of the Sea and St Mary of the Cross (MacKillop) pray for the Diocese of Broken Bay."