Spectacular Lights of Christmas 2014 Returns
Catholic Communications, Sydney Archdiocese,
14 Nov 2014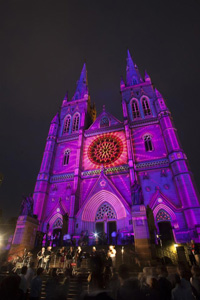 The unique and spectacular Lights of Christmas at St Mary's Cathedral which attracts hundreds of thousands to watch the story of Christmas unfold on the historic sandstone facade will run even longer this year.
Since 2009, this light and sound show has captured audiences' attention and added to their celebration of the festive season in a public environment.
Hosted by the Archdiocese of Sydney, the Lights of Christmas has become a destination for people to gather with their families, students and city workers, parishioners from outside of the city and tourists to not only see a wonderful laser light show but experience the true meaning of Christmas.
This year the presenting partner for Lights of Christmas is PAYCE and the spectacle will be launched on 9th December and run every night from 8.30pm to midnight right through to and including Christmas night. The theme for this year will centre around giving and service, encouraging everyone to think about what they can give in their own special way to their families and the community.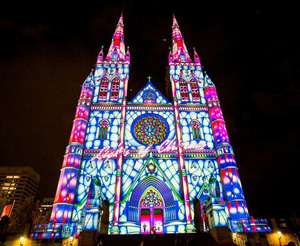 PAYCE Chairman Brian Boyd said they are delighted to be involved with what has very quickly become a Sydney tradition and aligns with the company's community presence and allows them to give back to the community, especially the homeless and those who may not be able to celebrate the way many families can celebrate and join in festivities.
"The Lights of Christmas give Sydney a true Christmas spirit, always highlighting the essence of goodwill to all that is the meaning of Christmas - so we want to bring that to life at the event with our support," he said.
Founding and Education Partner, Australian Catholic University (ACU) are again supporting the Lights of Christmas with many of their students taking part in the celebrations.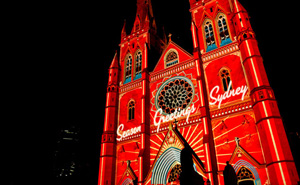 Graphic and creative designers have been preparing the beautiful 3D digital projections that illuminate the Cathedral's 75 metre high facade and which are accompanied by an especially commissioned soundscape and narrative that resonates with the Christmas season of peace, joy and goodwill.
The opening night will feature the St Mary's Cathedral Choir and special guest performers before the official "switch on . Other choirs and musicians will perform all other nights from 7.30pm for an hour.
The Lights of Christmas is also again supported by Catholic Cemeteries and Crematoria and also Catholic Super.