Notre Dame Doctoral Candidate Takes Out Prestigious Ned Kelly Award for Crime Fiction
Catholic Communications, Sydney Archdiocese,
13 Nov 2014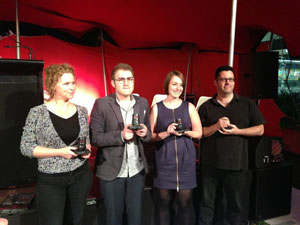 In the midst of her studies for a Doctorate in Philosophy at the University of Notre Dame, Sydney, Candice Fox has not only managed to write two crime novels with a third in the works, but this week took out the 2014 Ned Kelly Award for Best First Fiction.
Run by the Australian Crime Writers Association, the Ned Kelly Awards are Australia's oldest and most prestigious awards for crime fiction and true crime.
Candice won this year's award for her debut novel, Hades which has been picked for publication in the US and joins the ranks of other famous winners in the Ned Kelly Awards First Fiction category, including Peter Temple, Wendy James, Mark Dapin, Malcolm Knox and John Dale.
"I was so stunned at being nominated that my excitement at the news I'd won couldn't have risen any higher," Candice says admitting that she had no idea her publishers, Random House had even nominated her crime novel, Hades for the award.
"To have a Ned Kelly Award for a first novel is the ultimate hole-in-one for me," she says but admits like many authors she has been nervous about how her follow up crime novel, Eden which is due to hit bookstores next month, will be received.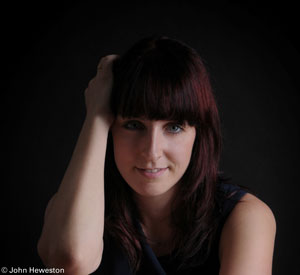 "I do hope readers will enjoy Eden because I've been having violent terrified conniptions of second-book-horror over it, as apparently all writers do," she confesses on her "Candice Fox Author" website blog, pointing out that: "Authors fall into obscurity all the time, or follow up their first cracker (novel) with a mediocre second and (then) fade into the shadows."
But the word on Candice's second book is all positive with Random House describing it as a "breathtaking thriller" and those who have read advance copies saying the novel not only moves at the same rip roaring pace but is filled with unexpected plot twists and edge of the seat suspense.
Set in Sydney and featuring the same compelling characters as Candice's award winning Hades, Eden is the second in the series with the third already half-written and already picked up by her publishers.
What few realise however is that while Hades was Candice's first published novel, it was in fact the fifth novel she had written, proving the adage that practice makes perfect, and that commitment and perseverance pay off.
In addition to writing novels, Candice who grew up in Sydney's west, had a brief stint in the military as an officer with the Royal Navy before deciding at 20, to enter academia. With two undergraduate degrees Bachelor of Arts, Education followed by an Honours Degree and Masters in Creative Writing.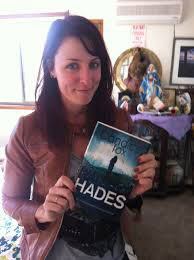 These days as well as lecturing in creative writing at the University of Notre Dame in Sydney, she is also undertaking a Ph.D in literary censorship and terrorism at the UNDA's School of Arts and Sciences.
"Candice is a brilliant doctoral student," says Dr Camilla Nelson, Senior Lecturer at UNDA and Candice's Ph.D supervisor. "It has been a great pleasure watching her flourish intellectually and as a writer in the time she has spent at Notre Dame and I think she is destined for a stellar career."
To finance her undergraduate and post graduate studies, Candice taught high school. More recently she turned to university lecturing to help finance her studies, but when teaching has been hard to come by during her studies for her Ph.D she says she has taken a wide range of side jobs including teaching children to swim, freelance journalism and as a desk girl at a tattoo shop.
But with the success of Hades and the expected success of her follow up crime novel, these odd-jobs have become a thing of the past.
"Basically no one lives off their writing," she says matter-of-factly, adding that most writers need to supplement their incomes with "authorial" activities such as giving talks, teaching, lecturing, or becoming involved with online courses or writers' retreats.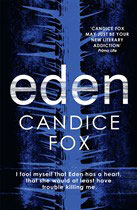 Although she still lectures at UNDA, these days Candice only teaches during semester and then only for a few hours per week. The advance for her first novel enabled her to put a deposit on what she calls a "modest bedder apartment," while all other book payments since that time have been carefully put away for the future.
A dark psychological thriller, Hades takes its name from the lead character Heinrich "Hades" Archer, an ex-criminal overlord who runs a landfill outside Sydney. In the novel, Hades' main game in "retirement" is disposing of things people want lost such as trash, goods that are too hot to handle and for a fee, bodies.
Described by judges of this year's 2014 Ned Kelly Awards for Crime Fiction as "a little bit Dexter, a little bit procedural, overall a great first novel built on a not-yet hackneyed premise that will have readers looking forward to the sequel," Hades continues to garner rave reviews and have Candice hailed as a stunning new talent on the Australian writing scene.
The series that began with Hades continues with Eden and next year with her third crime novel, Fall. And somehow in between all this, Candice is determined to complete her studies at UNDA and become a Doctor of Philosophy.