Prayer Vigil for Asylum Seekers Planned for St Mary MacKillop's Feast Day
Catholic Communications, Sydney Archdiocese,
2 Aug 2013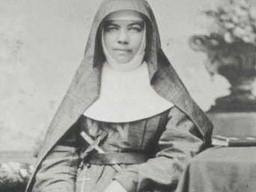 The Sisters of St Joseph of the Sacred Heart are inviting people not only across Australia but worldwide to join them in a prayer vigil for asylum seekers on the third feast day of their founder, St Mary of the Cross MacKillop.
"Be kind to the poor foreigners. Remember I was a foreigner once, and as such was never laughed at or unkindly treated," St Mary of the Cross wrote in 1875 and was known for her support, care and compassion for all migrants and refugees. Now as the hundreds of thousands in all corners of the globe prepare to mark her Feast Day on Thursday, 8 August next week the Sisters have called on them to join them in a prayer vigil as a sign of solidarity with asylum seekers who have arrived on Australia's shores where instead of being greeted with compassion, can face months and years of detention, deportation and despair.
"Mary's Feast is an opportunity for all of us to engage in a communal prayer that will enable us to stand with those who have been pushed to the edges and excluded from our land," says Sister Jan Barnett, co-ordinator of the Josephite Justice Office in Canberra and urges those who participate in the prayer vigil to pay tribute to Mary MacKillop whose life was motivated by compassion for those most in need.
"Since the Federal Government's announcement to resettle asylum seekers in PNG, Australians have been seriously concerned by the Government's and the Opposition's lack of compassion for desperate people fleeing for their lives. Across the world Josephites and our Associates are praying, writing letters, signing petitions and ringing politicians to plead for greater humanity and justice," she says and explains that the Sisters and their Associates are grieving on two fronts.
"We grieve for those who suffer enormously because of the actions of our Government. But we also mourn the apparent undermining of what is best in our nation's values by turning our backs instead of extending our hands."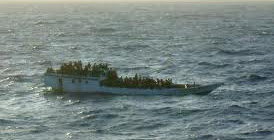 A prayer entitled "Keeping Watch with Those Seeking Sanctuary" has been specially created for the vigil and includes three stories of exile, including the reading from Matthew 2:13 - 15 where recounts the Lord appearing to Joseph in a dream, urging him to take the Christ child and his mother and escape to Egypt after Herod went in search of the Son of God in order to kill him.
As the prayer for St Mary MacKillop's Feast Day vigil points out, Mary and Joseph and Jesus were he also refugees seeking a safe haven from persecution and possible death.
In Sydney, the Feast Day of Australia's first Saint will be celebrated with Mass at 8 am on the Glen Roy Green at Mary MacKillop Place, North Sydney. This will be followed by a further Mass at 10 am and by one at 1pm. In addition the Chapel will be open from 8.30am until 4pm for private prayer and visits to the tomb of St Mary of the Cross.
In Penola where Mary MacKillop opened her first school and where she and Father Julian Tenison-Woods founded the Congregation of the Sisters of St Joseph there will be a Mass at 10am at the town's historic St Joseph's Church.
Concelebrated by St Joseph's parish priest Fr Peter Fountain and Fr Paul Gardiner, who for 25 years was Postulator for the Cause of Mary MacKillop and who authored the definitive biography of her life and her holiness, Mary MacKillop: Extraordinary Australian, the Mass will also be attended by the town's two resident Sisters of St Joseph.
A convent for the Sisters of St Joseph was established by the Congregation's founder back in 1868 but within a few years no one was living there and although there was an attempt to reestablish the convent in 1875 within 10 years this was also abandoned. The convent was revived in 1936 but 50 years later it became part of the school buildings. For the next 25 years there were no Sisters at Penola. But this changed in April 2011 when Sr Mary MacNamara and Sr Christine Symond were posted to Penola and a new modern convent built.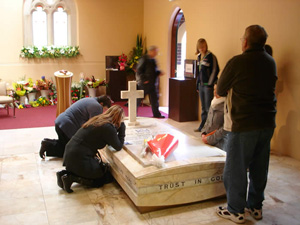 In addition, the Feast Day Mass at St Joseph's Church will be attended by students from Penola's Mary MacKillop Memorial School as well as pupils from Catholic schools in Mt Gambier, Millicent and the surrounding areas.
Two busloads of pilgrims are also expected to attend the Mass and will later visit the Mary MacKillop Penola Centre with its permanent exhibition devoted to Mary MacKillop as well as a Tenison-Woods exhibition which thanks to new extensions displays many of the fossils he found and identified from his treks into the outback, and which brought him acclaim and distinction as a scientist.
The nearby Woods-MacKillop schoolhouse will also be open together with the now completed second stage of The Mary MacKillop Stable School Park, site of the first Woods-MacKillop school created in a six-stall-stable. Although the third stage of the park yet to be finished, the opening and blessing of the park took place last year when it was dedicated by South Australia's Archbishop Emeritus Leonard Faulkner as a place of pilgrimage, prayer and reflection.
In addition to the prayer vigil and celebrations at parishes across Australia to mark the Feast Day of St Mary of the Cross, the Mary MacKillop Foundation will hold its annual fundraising dinner in the Seargeants Mess, Chowder Bay, NSW where the Governor of NSW, Professor Marie Bashir will be guest speaker. Congregational Leader of the Sisters of St Joseph, Sr Anne Derwin rsj and veteran television journalist, Caroline Jones AO will also attend.
Each year the Foundation gives grants of up to $10,000 to a variety of community-based projects across Australia and also supports a scholarship scheme that in the past 14 years has seen 50 Indigenous students graduate in areas of Law, Medicine, Teaching, Adult Education, Nursing, Midwifery, Social Work, Community Management and Science. A further 42 Aboriginal and Torres Strait Islander students at universities across the country are currently being supported by the Foundation's scholarship program.
To access the St Mary MacKillop Feast Day Prayer for asylum seekers and those seeking sanctuary, log on to http://www.sosj.org.au/news-events/view_article.cfm?id=1454&loadref=7