Open Invitation for Similarity and Difference in Black Theology Forum
Catholic Communications, Sydney Archdiocese,
22 Mar 2011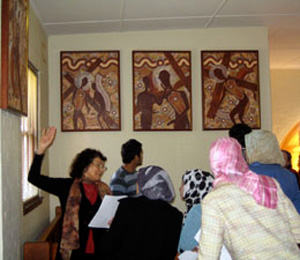 One of the world's leading scholars in Black Theology, Dr Anthony Reddie launched the third Christ and Culture Conference of the National Aboriginal and Torres Strait Islander Ecumenical Council (NATSEIC) in Parramatta last night.
A Research Fellow in Black Theology at Britain's prestigious Queens Foundation for Ecumenical Theological Education, Dr Reddie has spent the past week in Queensland where he presented workshops and symposiums in Brisbane and to students and clergy at the Wontulp-Bi-Buya College in Cairns.
The main purpose of Wontulp-Bi-Buya College is to support the development of Aboriginal and Torres Strait Islander church and community leaders through study programs leading to awards in theology & community development.
It is the first time the British-born son of Jamaican parents has visited Australia and he says this also marks the first time he has met with such a wide range of Aboriginal and Torres Strait Islanders in their homeland and communities.
"Despite all they have been through I have been particularly struck by their resilience, generosity, kindness and their sense of hope," he says, adding that he has also been struck by the spirituality of Australia's Indigenous people."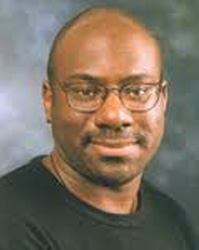 While in Brisbane, Dr Reddie conducted a workshop on identity attended by both the privileged and the oppressed.
"I have held similar events in Britain but never with both types of people in the same place. For me it was especially significant when the oppressed people began speaking. The non Indigenous people there were shocked to hear the stereotypes about them, and the standout moment for me occurred when the Aboriginal people asked them 'what are you going to do?'"
Racism and identity are just two of many subjects tackled by Dr Reddie at his workshops, forums and symposiums and are designed not only for Aboriginal and Torres Strait Islanders but for Christian minorities of all colours as well as white Australian Christians.
While the Catholic Church is a universal church, encompassing nations, cultures and races from every corner of the world, with many different distinct and unique voices.
Just as Catholic Aboriginals and Torres Strait Islanders share much in common with Catholics in other countries, they also have a culture and voice that is all their own. This is also the case for Australia's Chinese or Vietnamese Catholics or for any of our nation's minorities who come together to form our rich cultural heritage.
However until recently when it came to Christianity, those whose ancestors were not from Europe were left to grapple with a faith filled with Eurocentric symbolism and metaphors. This led to difficulties in understanding such terms as "the Lamb of God" when those worshipping Christ and studying the Scriptures, had never seen a lamb. The proverbial olive branch was equally unfamiliar with their home grown flora and fauna and vastly different from that found in Britain or Europe.
The histories and cultures of non-Europeans were also very different and for long periods of time this triggered problems when it came to a full understanding the Lord and His Message.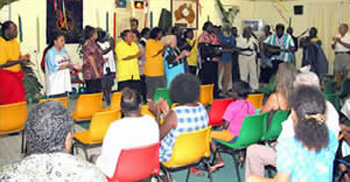 The development of Black Theology in the US in 1966 helped change this, addressing for the first time a culture battling to come to terms with the evil of slavery and segregation as well as ongoing conscious and unconscious acts of racism. In Black Theology, God is not the white God depicted in paintings and artworks throughout Europe's history but is instead portrayed as a black God or whatever colour God needs to be to enable His people to understand they are important to Him and that He cares.
Black Theology was later taken up by British academics where the black and minority cultures are different from the black American experience.
The result has been uplifting, liberating and exciting not only for Christians from Britain's rich mix of cultures from countries such as Nigeria, Pakistan, India, China and the Middle East but for their European counterparts as well.
Now one of Britain's most respected authorities on modern day Black Theology and Christian education, Dr Anthony Reddie is in Australia to conduct a series of challenging workshops and symposiums that further our understanding of Christ and Culture. He also explores the all important question of identity, contextualisation as well as racism in all its forms.
A guest of the National Aboriginal and Torres Strait Islander Ecumenical Council, (NATSIEC), Dr Reddie will host a forum on "Sameness, Similarity and Difference: An Intercultural Theology for Human Solidarity" at the Polding Centre at 133 Liverpool Street in the CBD on Wednesday 30 March.
"Open to the public, this is a forum everyone should try to attend, no matter what their colour or ancestry," Graeme Mundine urges. Executive officer of the Archdiocese of Sydney's Aboriginal Catholic Ministry, a member of the NATSIEC executive and currently travelling with Dr Reddie, Graeme says the forum will prove an eye opener, not only to Indigenous people and Sydney's Christian minorities but for anyone who is Christian and wants to understand and celebrate our differences as well as our similarities.
A prolific author, Dr Reddie has written many books including the thought provoking "Is God Colour Blind" and "Working Against the Grain."
On Wednesday night, the forum he conducts will explore how different peoples can live in respect and harmony with one another and with the resources Christian theology provides.
Hosted by the Archdiocese of Sydney's Aboriginal Catholic Ministry and NATSIEC, the public is invited to attend Dr Reddie's forum. There is no charge but registration is necessary by sending an RSVP to gabrielle@ncca.org.au or phoning 02 9299 2215.
Entitled: Sameness, Similarity and Difference: An Intercultural Theology for Human Solidarity the Forum begins at 6 pm for 6.30 pm on 30 March on Level 5 of the Polding Centre, 133 Liverpool Street, Sydney 2000.