Royal Commission Melbourne Hearings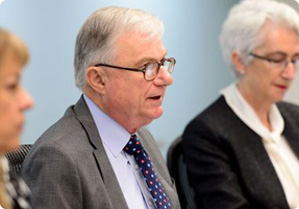 The Royal Commission into Institutional Responses to Child Sexual Abuse resumed this week, beginning public hearings into the Archdiocese of Melbourne.
This is Case Study 35 for the Royal Commission, but the hearings will also involve a return to Case Study 28, which began in May and focussed on the Diocese of Ballarat.
This will be the second time the Royal Commission will hold a public hearing into the Archdiocese of Melbourne, the first being during August 2014. Those hearings considered the process established by the Archdiocese to respond to complaints of abuse, known as the Melbourne Response, by looking at the experience of three sets of survivors and their engagement in that process.
This week, the Commission's attention was drawn to the parish and school of Holy Family, Doveton and the way complaints about priests were handled by the Archdiocese and the Catholic Education Office. So far, the Commission has heard from two survivors, a former principal and former teacher from the school, Catholic Education Office personnel and the former Vicar General of the Archdiocese, Bishop Peter Connors.
Bishop Connors is the first of four Bishops who will appear at this hearing, with Melbourne's Archbishop Denis Hart, Bishop Emeritus Hilton Deakin and Cardinal George Pell also scheduled to provide evidence in the coming weeks.