Ballarat Hearing Adjourned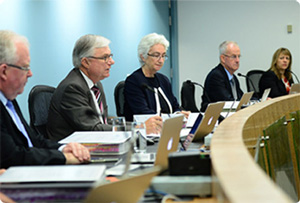 The Royal Commission completed phase two of its hearings into Case Study 28 on Wednesday.
Case Study 28 focussed on the Diocese of Ballarat, phase two was particularly concerned with the knowledge of the Bishop and Priests of the Diocese in relation to allegations of child abuse, and the response of the Diocese to those allegations.Â
The hearings this week contained testimony mainly from former secretaries and vicars general to Bishop Ronald Mulkearns, who was Bishop of Ballarat from 1971 until 1997. Witnesses included Bishop Brian Finnigan (now auxiliary Bishop of Brisbane), and Fathers Brian McDermott, John McKinnon, Lawrence O'Toole and Dan Arundell.
The Commission also heard from Father John Walshe, who was with Cardinal George Pell at the time he received a phone call from survivor David Ridsdale, in which Ridsdale alleges Cardinal Pell offered him a bribe. Father Walshe's refutation of that allegation was the subject of two days of examination by counsel assisting the Commission, during which Father Walshe was accused of fabricating evidence.
The third part of the Ballarat hearing will start again on 22 February 2016 for another two weeks.
This will be in Ballarat.
On 5 February thee will be a directions hearing in Sydney for the Commission to hear an update on the status of Cardinal Pell's health.
Summaries for each day of hearings, as well as a link to commentary on the treatment of Father Walshe during his testimony, are available below.